Transfer Station Schedule
(Closed Sundays)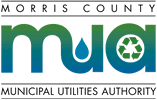 2022 Thanksgiving Recycling Schedule:
No Collection on Thanksgiving, 11/24/22
Boonton Town's make-up Wed., 11/30/22
Boonton Township's make-up Fri., 12/2/22
Thanksgiving Recycling Tips

Morris County
Municipal Utilties Authority
2022 Thanksgiving Recycling Schedule:
Boonton Town's
make-up Wed., 11/30/22
Boonton Township's
make-up Fri., 12/2/22
Thanksgiving Recycling Tips
Transfer Station Schedule (Closed Sundays)
Solid Waste Materials

The MCMUA maintains a listing of solid waste materials for disposal and/or recycling and issues and facilities associated with each material's management. Please use this listing to figure out how and where to manage (dispose and/or recycle) such materials. Contact facilities prior to delivering waste to verify what materials they can accept and if their are any restrictions associated with such delivery of materials.
Materials Filter
Material Listing Based on Filter