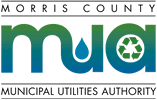 Transfer Station Schedule
(Closed Sundays)

Morris County
Municipal Utilties Authority
Transfer Station Schedule
(Closed Sundays)
Solid Waste Material Data Sheet

Class A Recyclable
Category: Household/Commercial
Activity Type: Recycling

Management Issues: p>This is a material defined to fit NJDEP facility approval regulations. As such, Class A facilities accept Class A Materials for recycling. These materials must be separated from the garbage prior to acceptance at Class A recycling facilities. The Class A materials are permitted to be commingled among themselves.
Regulations: Definition N.J.A.C. 7:26A-1.3
"Class A recyclable material" means a source separated non-putrescible recyclable material specifically excluded from Department approval prior to receipt, storage, processing or transfer at a recycling center in accordance with N.J.S.A. 13:1E-99.34b, which material currently includes source separated non-putrescible metal, glass, paper, plastic containers, and corrugated and other cardboard.
Facilities That Manage Class A Recyclable

Information Destruction Systems LLC
101 Seventh Street
Passaic, NJ 07055
Tel: 877-777-IDS1
Email: sales@ids1.net
WWW: www.ids1.net
&nbsp

Republic Services (Formerly ReCommunity)
103 and 105 Iron Mountain Road
Mine Hill, NJ 07801
Tel: 973-328-7001 Fax: 973-328-7791
Email: marketing@recommunity.com
WWW: www.recommunity.com
&nbsp

SK Paper Shred
253 Wykertown Rd
Branchville, NJ 07826
Tel: 973-875-3444
WWW: skpapershred.com
&nbsp

Trinity Paper Recycling Center
116 Iron Mountain Road
Mine Hill, NJ 07803
Tel: (973) 366-9199

&nbsp
Pounds Per Unit Conversions
Each Pound weighs 1 pounds.
Each Ton weighs 2000 pounds.