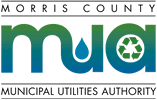 Transfer Station Schedule
(Closed Sundays)

Morris County
Municipal Utilties Authority
Transfer Station Schedule
(Closed Sundays)
Solid Waste Material Data Sheet

Plastic - Large Rigid
Category: Plastic
Activity Type: Recycling

Management Issues: In the MCMUA "all-in-one" curbside recycling collection program, large rigid plastics are acceptable with the curbside single-stream recycling mixture if and only if the item fits in the recycling container. If the large rigid plastic item is too large to place in the curbside recycling container, it may be recycled at the municipal recycling depot if that site is prepared to accept large rigid plastic.

Acceptable for large rigid plastics recycling are the following: Large Toys, Laundry Baskets, Soda & Milk Crates, Plastic Pet Carriers, Kitty Litter Buckets, Plastic Storage Containers, Garbage/Recycling Containers, Empty & Dry Plastic Paint Cans, Plastic Outdoor Furniture Without PVC Pipes, 5-Gallon Buckets - Remove Metal Handles, No Other Types of Plastic

Handling Tips: Plastic large rigid includes large toys, laundry baskets, soda and milk crates, plastic pet carriers, kitty litter buckets, plastic storage containers, garbage and recycling containers, empty and dry paint cans, plastic outdoor furniture (without PVC pipes), 5-gallon buckets (remove metal handles).
Facilities That Manage Plastic - Large Rigid
Pounds Per Unit Conversions
Each Pound weighs 1 pounds.
Each Ton weighs 2000 pounds.