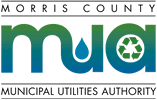 5/10/2021 - Acceptance of tires for recycling at the transfer stations is temporarily suspended.

Morris County
Municipal Utilties Authority
Recycle Coach

Starting in 2018, NJDEP funded and began to roll-out Recycle Coach technology for use throughout New Jersey to provide information on recycling and disposal programs. Please realize towns have just started getting their data inputted for use as of Spring 2018 and more towns are expected to come on-board with Recycle Coach over time.