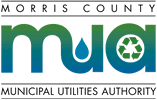 Transfer Station Schedule
(Closed Sundays)

Morris County
Municipal Utilties Authority
Transfer Station Schedule
(Closed Sundays)

F.A.Q. Asbestos
The MCMUA operates one of NJ's most comprehensive household hazardous waste (HHW) programs. This F.A.Q. page and information on hazardous materials is intended as a guide about HHW materials as well as the MCMUA's HHW program. This information is a general guide and does not constitute official rule, regulation or law.
---
Hazards
Microscopic asbestos fibers from friable (loose or crumbling) asbestos can be suspended in air and inhaled. Once inhaled, fibers remain in lungs, causing lung cancer.
Asbestos may be found in pipe insulation and insulating boards, textured wall surfaces, electrical equipment, floor and roofing tiles and certain adhesives.

Handling
If asbestos is in good condition, and fibers are not exposed, it does not need to be removed.
Slightly damaged or loose asbestos can be re-wrapped rather than removed.
Asbestos should be handled by a certified asbestos abatement contractor. Contact the resources listed on this page.
NJDEP requires notification at least 10 business days prior to any asbestos removal activities.
All asbestos containing materials must be containerized, labeled and removed in accordance with NJDEP regulations. Asbestos must be adequately wetted so that fibers will not be released, and sealed in leak-tight, properly labeled containers. If bags are used, they should be thick plastic (6 mil) and double bagged. The same handling procedures are required for contaminated clothes and equipment. Container must then be labeled with an OSHA approved asbestos warning label.
Do not dust, sweep or vacuum particles suspected of containing asbestos.

MCMUA's Facility Database
Management Options
Asbestos is not permitted for disposal at either of the two MCMUA transfer stations with ordinary trash. Small quantities, up to 100 pounds may be delivered to the MCMUA's household hazardous waste programs. Quantities over 100 pounds will have to be managed by other facilities permitted to accept asbestos. See below for more information.
Household Hazardous Waste (HHW) Program Asbestos Disposal Information - The HHW Facility is only to be used for small asbestos-removal projects. No household or business may deliver asbestos from any remediation project in which the total quantity of asbestos exceeds 100 pounds (wetted, double-bagged and sealed with duct tape). There will be no exceptions. Customers who deliver quantities in excess of 100 pounds will be redirected to the landfills listed in the right column of this page.
A list of current licensed asbestos contractors can be obtained by calling the Asbestos Contractor unit of the Division of Codes and Standards at 609-633-2159 or by requesting the list in writing from the unit at the following address:
Department of Community Affairs
Division of Codes and Standards
Asbestos Contractor Unit
101 South Broad Street, P.O. Box 816
Trenton, NJ 08625
All asbestos materials must be disposed of in landfills permitted to receive asbestos.
Asbestos-containing asphalt roofing materials and vinyl asbestos floor tiles that are not broken and are removed in accordance with NJDEP regulations can be disposed of in designated solid waste landfills.
Asbestos containing materials should never be disposed of in a combustion facility or compacted because fibers may be released to the surrounding area.

Asbestos Testing is performed at...
EMSL, 1056 Stelton Road, Piscataway, NJ 08854, (732-981-0550) or 1-800-220-3675. (sample in zip-locked bag inside another bag 2" x 2") $50.00/sample, cert. check, m.o., credit card info. Request PLM
J&S Environmental Laboratories, LLC 2333 Route 22 West, Union, NJ 07083, 908-206-0073. Place sample in zip-lock bag inside another bag, sample size needs to be 2" x 2". $45/sample, checks or cash. Request PLM analysis.

Asbestos Disposal is done at...
Brother's Landfill Chrin, PA. 610-258-8737 - Accepts non-friable asbestos only. Lcated near Easton, PA off of 1st exit on Rt 78 in PA, about 1 hour from Morris County, NJ
Grand Central Sanitary Landfill Pen Argyl, PA, (out Route 46 Westbound) 610-863-6057 - (accepts non-friable asbestos only)
G.R.O.W.S. Landfill (Tullytown/Morrisville, PA area) 215-428-4390 is the general phone number for the GROWS Landfill. Accepts both friable and non-friable asbestos) Residents wishing to use the GROWS Landfill must call 267-580-2816 to complete the approval process in order for the landfill to accept the asbestos material.
IESI Bethlehem Landfill, 2335 Applebutter Rd, Bethlehem, PA 18105, 610-317-3200. (will accept friable asbestos but it must be properly manifested according to PA-DER rules).

Additional Asbestos Resources