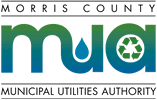 Transfer Station Schedule
(Closed Sundays)

Morris County
Municipal Utilties Authority
Transfer Station Schedule
(Closed Sundays)
Solid Waste Material Data Sheet

Asbestos - (Type 27A)
Category: Hazardous
Activity Type: Disposal

Regulations: Definition N.J.A.C. 7:26-2.13(g-1)
27A Waste material consisting of asbestos or asbestos containing waste.
Special Handling: This material requires special handling other than traditional disposal and recycling facilities.
Facilities That Manage Asbestos - (Type 27A)

MCMUA Household Hazardous Waste Facility
Mount Olive Transfer Station
168 Gold Mine Road
Mount Olive, NJ 07836
Tel: (973) 829-8006 Fax: (973) 285-8397
WWW: mcmua.com/sw_hhw_pfac.asp
&nbsp
Pounds Per Unit Conversions
Each Pound weighs 1 pounds.
Each Ton weighs 2000 pounds.