Transfer Station Schedule
(Closed Sundays)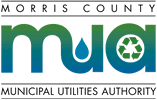 2022 Thanksgiving Recycling Schedule:
No Collection on Thanksgiving, 11/24/22
Boonton Town's make-up Wed., 11/30/22
Boonton Township's make-up Fri., 12/2/22
Thanksgiving Recycling Tips

Morris County
Municipal Utilties Authority
2022 Thanksgiving Recycling Schedule:
Boonton Town's
make-up Wed., 11/30/22
Boonton Township's
make-up Fri., 12/2/22
Thanksgiving Recycling Tips
Transfer Station Schedule (Closed Sundays)
Solid Waste Material Data Sheet

Aluminum Pie Plates, Trays and Foil
Category: Metal
Activity Type: Recycling

Management Issues: At the ReCommunity "All-In-One" recycling facility, aluminum foil, tray and pie plates are hand sorted from the rest of the single-stream mix.
Handling Tips: Rinse all containers prior to recycling as this material must be clean to be recycled.

This material includes aluminum wrap and foil as well as aluminum pie plates, aluminum take-out containers, aluminum frozen food containers and trays.

Do not include material that is one side foil and the other side paper such as is used to wrap hot sandwiches. Do not include use-once broiling pans. These will be too dirty to recycle.
Facilities That Manage Aluminum Pie Plates, Trays and Foil
Pounds Per Unit Conversions
Each Pound weighs 1 pounds.
Each Ton weighs 2000 pounds.