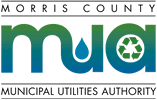 Transfer Station Schedule
(Closed Sundays)

Morris County
Municipal Utilties Authority
Transfer Station Schedule
(Closed Sundays)

Water Conservation
The MCMUA lauds local and regional water conservation effects in order to preserve Morris County's precious water supply for future generations. There are a variety of simple ways by which Morris County residents can reduce their annual water consumption while simultaneously reducing their monthly water bills. Water conservation can occur through high-efficiently water fixtures, proper landscaping techniques, and/or through enhanced public awareness. By conserving water, Morris County residents and businesses can help reduce negative impacts on various watershed and the environment at large.
HEALTHY WATERSHEDS = HEALTHY PEOPLE
The MCMUA supports water conservation through the following:
Participating and communicating with local and regional environmental/watershed organizations;
Sponsoring river cleanups;
Providing and enhancing passive recreational natural areas;
Purchasing county open space;
Supporting the EPA WaterSense initiative;
Publishing and providing water conservation information to residents;
Recommending municipal water conservation ordinances to local communities in Morris County.

Contact the MCMUA environmental specialist at 973.285.8387 or at info@MCMUA.com to request water conservation educational materials listed on this page.