Transfer Station Schedule
(Closed Sundays)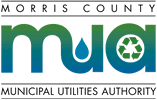 2022 Thanksgiving Recycling Schedule:
No Collection on Thanksgiving, 11/24/22
Boonton Town's make-up Wed., 11/30/22
Boonton Township's make-up Fri., 12/2/22
Thanksgiving Recycling Tips

Morris County
Municipal Utilties Authority
2022 Thanksgiving Recycling Schedule:
Boonton Town's
make-up Wed., 11/30/22
Boonton Township's
make-up Fri., 12/2/22
Thanksgiving Recycling Tips
Transfer Station Schedule (Closed Sundays)

Public Records and Disclosure
Below are the documents the MCMUA provides to the public in accordance with state law. Additionally, the method to request and obtain public records and information from the MCMUA, in accordance with state law, is provided below
---
OPRA Requests - Please contact Marilyn Regner, MCMUA records custodian, to request public information in accordance with the Open Public Records Act. Her Email is mregner@co.morris.nj.us and her phone number is 973-285-8385.

MCMUA Board Members - This is a membership listing of current MCMUA Board.

Mission and Responsibilities - The MCMUA Solid Waste Division implements recycling, solid and hazardous waste programs throughout Morris County. The MCMUA Water Division sells drinking water to several municipalities and water companies.

Budgets


Most Recent Comprehensive Annual Financial Reports

Annual Audits

Authority, Rules, Regulations and Official Policy Statement - The MCMUA's website (www.MCMUA.com) contains the MCMUA's rules, regulations and policy statements deemed relevant by the MCMUA to the interests of Morris County, NJ and the MCMUA's service area.
Potable Water System Regulations, Specifications and Rate Schedule

Open Public Meeting Act Notices

MCMUA Meeting Minutes - Meeting minutes, listed in reverse date order, include verbiage of resolutions adopted as well as any committee reports provided to the MCMUA Board during each meeting.


2022 MCMUA Board Minutes
2021 MCMUA Board Minutes
2020 MCMUA Board Minutes
2019 MCMUA Board Minutes

Managerial Staff Listing - Persons who exercise day-to-day supervision or management of the MCMUA

$17,500 Remuneration List - Listing of all attorneys, advisors, consultants, and any other person, firm, business, partnership, corporation, or other organization which received $17,500 or more during the preceding fiscal year for any service whatsoever rendered to the of the authority.