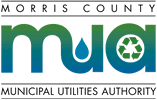 Transfer Station Schedule
(Closed Sundays)

Morris County
Municipal Utilties Authority
Transfer Station Schedule
(Closed Sundays)
Solid Waste Material Data Sheet

Shredded Paper
Category: Paper
Activity Type: Recycling

Management Issues: To keep shredded paper to a minimum, please only shred what is needed, e.g., shred only confidential paper and leave the rest unshredded.


Some municipalities and non-profit entities conduct paper shredding events in an effort to provide an opportunity for the bulk shredding of paper. There is often a small charge for this service to both help raise money for a charity and/or to pay for the shredding company's equipment and time. Please check with any shedding program prior to delivery for preparation instructions and pricing. The MCMUA tries to provide notification of known Morris County shredding programs through its online calendar (click here.)

Mandated Recycling: If generated in Morris County, this material is required to be separated at the source by the waste generator and ultimately recycled. The material may not be mixed with garbage and additionally, materials mandated to be source separated and recycled cannot be separated from disposables by anyone or any facility but the generator at the site where the recyclables and disposables are generated. A materials recovery facility may not perform separation of recyclables from disposables on behalf of the waste generator.
Facilities That Manage Shredded Paper
Pounds Per Unit Conversions