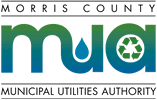 Transfer Station Schedule
(Closed Sundays)

Morris County
Municipal Utilties Authority
Transfer Station Schedule
(Closed Sundays)

F.A.Q. Propane
The MCMUA operates one of NJ's most comprehensive household hazardous waste (HHW) programs. This F.A.Q. page and information on hazardous materials is intended as a guide about HHW materials as well as the MCMUA's HHW program. This information is a general guide and does not constitute official rule, regulation or law.
---
On April 1, 2002, a National Fire Protection Association (NFPA) safety code went into effect that prohibits the refilling of propane tanks that are not equipped with overfill protection devices (OPD). This code applies to propane tanks with capacities between 4 and 40 pounds, including the 20-pound tanks used by millions of households for barbecue grills. While tanks manufactured after September 30, 1998, are equipped with the required OPD, it is estimated that there are 40 million 20-pound propane tanks that do not have OPD's and must be retrofitted or become obsolete.
While this new fire code addresses safety concerns related to the overfilling of propane tanks, the issue of safe and environmentally responsible management of the obsolete propane tanks has not been addressed. In the absence of a national effort to collect these obsolete tanks, they will continue to be a consumer safety concern, particularly if stored improperly.
Hazards
Tanks containing fuel under pressure may explode if tank integrity is altered, causing severe injury or death.
The tanks present a very serious threat to the dozen or so waste combustion facilities nationwide that use a shredding mechanism to prepare waste for combustion.
If the tanks are discarded along with household trash, there is the risk of explosion or fire during collection.

Handling
DO NOT ATTEMPT TO REMOVE VALVE FROM TANK. Special safety equipment is required to prevent explosion.
Tanks in good condition with old fittings may be reused with adapter purchased at most propane gas dealers.
Use up all residual gas, for non-refillable (disposable) tanks
Do not leave valve open, because escaping gas is a fire hazard.

Management Options
Do NOT dispose of tanks containing gas in the trash.
Check Yellow Page listings under "Gas - Propane" for company who will take tank for reuse or use the listings on this page.
Scrap metal yards may take empty tanks. Consult the local phone directory.
Save for HHW collection..

Other Questions and Answers
Why are we seeing so many tanks lately? Gas grill sales are at an all time high – surpassing charcoal, electric and natural gas combined. LP tanks are stamped with a manufacture date that indicates the start of its 12-year life span. Many tanks are simply running out of date. Other tanks have valves that no longer fit on newer grills. In addition, new federal requirements (effective April 1, 2002) prohibit tanks without an overfill prevention device (OPD) from being filled. You can expect to see a dramatic increase of tanks at that time.

Why can't we just throw LP tanks away? All previously used propane tanks have some amount of gas left in them. Because propane is a hazardous material, it needs to be handled or disposed of properly.

Is there some reason why we can't just give it to the scrap metal guy? Scrap metal dealers have the same issues and problems, but also are faced with very high explosion risk and damage costs should one of these tanks get into their system.

What if we take the valves out? Removal of valves involves costly equipment and extensive training to meet the requirements set out in NFPA 58 1-5 (Qualifications of Personnel) and 4-2.2.1 (Emergency Response Procedures).

In addition, most scrap metal dealers are not satisfied just having the valves removed; and prefer tanks to have more than one opening or be cut in half to ensure complete gas expulsion.

Where should we keep the tanks? All LP tanks should be stored outside in an area where they are least likely to suffer from physical damage or tampering. NFPA 58 5-2.1.1

Are there any special precautions to heed when handling or storing tanks? So long as the tanks are separate from other collected items there are no special needs. It's probably a good idea to maintain a no smoking zone throughout your facility.

Should we accept only empty tanks or open the valves ourselves? All previously used LP tanks have some propane in them at all times. Accepting only empty tanks encourages people to improperly dispose of their tank(s) or release unacceptable amounts of propane into the atmosphere. NFPA 58 4-3.1 states "LP gas shall NOT be vented to the atmosphere" except in an emergency situation.

Does it matter how we stack the tanks? Absolutely. Propane tanks should always be stored in an upright position. Never store tanks on their side or upside down. NFPA 58 5-21.2.

Do the tanks need to be plugged? Old style valves with internal threads only should be sealed with a plug. NFPA 58 4-2.2.3.
TRANSPORTATION OF CYLINDERS
Would a local propane filler be interested in these tanks? Many local propane fillers have little or no interest in these tanks. Many times, the reason an individual is disposing of their tank is because it's out of date or no longer fits their grill. Out-of-date tanks must be recertified by qualified individuals and require special training and equipment to do so. In addition, many local fill stations lack the space to store a number of tanks and may face disposal fees or charges.
What about the bigger propane companies? Any interest there? A lot of the bigger propane companies are concerned and willing to work with this problem even though they have no real use or need for them. Chances are good that, if you do find a propane company that is willing to accept LP tanks, you will more than likely have to transport the tanks to their facility.
Eastern Propane (973-697-3111) will accept used propane tanks of any size delivered to their Oak Ridge (Jefferson) location for $12/tank.
What's the best way to transport LP tanks to locations that are willing to accept them? First of all, you'll need to determine how many tanks you'll be transporting. The most you can carry without special licensing or placarding of your vehicle is 25 standard grill tanks. NFPA 58 6-2.2.8 states that vehicles transporting more than 1,000 lbs. of LP-Gas, including the weight of the cylinders, shall be placarded as required by DOT regulations or state law.
Can I just throw them in the back of my pickup truck? You must secure tanks on a flat surface or in racks, and in an upright position in such a way as to minimize movement to each other or the vehicle. Cylinders shall be determined to be leak free before loading into vehicle. NFPA 58 6-2.2.6.
Municipal Recycling Depots Currently Accepting Propane Cylinders:
Some municipal recycling facilities accept BBQ-sized propane cylinders for recycling. Contact your municipality first before delivering a tank to a recycling depot.

Commercial Quantity Propane Cylinder Recycling Facilities:
Acetylene Supply Company (ASCO)
(Blue Rhino Distributor)
475 Route 9 South
Woodbridge, NJ 07095
(732) 634-7500
Baugh Bros. LP Gas
8 Cadillac Road
Burlington, NJ
($5/cyl.)
Columbia
738 Monmouth Road
Wrightstown, NJ
???-723-7751
Middlesex Welding Sales Co.
U.S. Highway No. 1
North Brunswick, NJ 08902
(732) 297-0900
Propane Power
915 Delancy Street
Newark, NJ 07105
(973) 589-3030
Raven Propane (Blue Rhino distributor)
Bordentown, NJ (near NJ Tpke Exit 7)
1-609-291-1480 (Mike Carr)
(will accept propane tanks for free)
Tank Recyclers
A Division of TYS
888-445-0579 ext. 2145
401-258-9800
(100 or more 20 lb. tanks, $1/cyl., $5/cyl.)
(20 lb. tanks tanks (<100), $3/cyl.)
(1 lb. tanks, $1/ea.)
(100 lb. tanks, $20/ea.)
Service Energy/Poore's Propane (a distributor for Blue Rhino)
3799 N. DuPont Highway
Dover, DE 19901
1-800-505-4281 or 1-301-422-6631 (ask for Michael Steiner)
(will pick up loads of >400 for free)

Propane Collection Locations In and Around Morris County
Listed below are collection sites (alphabetically, by town) located within or adjacent to Morris County, NJ that accept BBQ-sized propane cylinders for recycling, re-fill or upgrade. Some of this information was obtained from the Blue Rhino Web site and from Tank Recyclers. Note, please verify pricing and availability of drop-off service before delivering propane to any of these programs.
Boonton Service Center
556 Myrtle Avenue
Boonton, NJ
(973) 263-8700
($30-40/old valve style cyl. exchange; $20/new valve cyl. exchange)
Major Hardware Supply
119 Hawkins Place
Boonton, NJ
(973) 299-6030
($35.98/cyl. upgrade to new valve; $15.98 refill new cyl.)
Dreyer Lumber
20 Watchung Avenue
Chatham, NJ
973-635-5151
($10/cylinder)
Pioneer Rentals
Passaic Avenue N.orth
Chatham, NJ
973-635-7870
($7.50/cylinder)
Amerigas
145 West Main Street
Chester, NJ
908-879-5399
($5/cylinder)
Anchor True Value
320 Route 46 West
Denville, NJ
D&L Service Center
30 West Main Street
Denville, NJ
Miller's Bottled Gas
3 Locust Avenue
Dover, NJ
973-361-1673
($5.00/cylinder)
Town Square Exxon
5 Mount Pleasant Avenue
Dover, NJ
(973) 328-7755
(Free to drop-off; $14.95/exchange if you have new valve; $29.95/exchange to upgrade to new valve; $42.95/brand new cyl.)
Do-It-Yourself, Inc.
38 State Highway No. 10
East Hanover, NJ
973-887-2251
($11.95/cylinder or $18.95 retrofit)
Home Depot
902 Murray Road
East Hanover, NJ
(973) 887-4444
(Free drop-off if it's non-rusty; $19.95/exchange for new cyl.)
Hanover Floral Co.
61 Ridgedale Avenue
East Hanover, NJ
973-887-5241
($7.50/cylinder)
Florham Park Amoco
36 Ridgedale Avenue
Florham Park, NJ
(973) 377-9727
($15/drop-off old-style valve cyl.; $15/new-style valve cyl.)
Florham Park Exxon
151 Columbia Turnpike
Florham Park, NJ
(973) 443-0840
($16/cylinder)
Suburban Propane
240 Route 10 West
Whippany, NJ (Hanover)
973-887-0500
($10/cylinder)
Eastern Propane
255 Oak Ridge Road
Oak Ridge, NJ (Jefferson) 07438
(973) 697-3111
($3/cylinder)
Novello's Floral Home & Garden
5558 Berkshire Valley Road
Oak Ridge, NJ (Jefferson)
Mark Service Station Gulf
North & Perimeter Road
Kinnelon, NJ
Nisan Getty Gas
650 Route 15 South
Lake Hopatcong, NJ
BP
747 Route 15 South
Lake Hopatcong, NJ
Al's Sunoco
252 Espanong Road
Lake Hopatcong, NJ
Lincoln Park Shell
275 Comley Road
Lincoln Park, NJ
Lincoln Park True Value
206 Main Street
Lincoln Park, NJ
(973) 694-1150
($30/upgrade to new valve style; $15.99 to refill)
Wolfson's Market
480 Boonton Turnpike
Lincoln Park, NJ
Modern Propane
199 US-46
Lodi NJ 07644
973-778-0812
Convent Shell
192 Madison Avenue
Convent Station, NJ (Morris Twp.)
(973) 538-3234
($19/exchange for new cyl.)
Mount Arlington Exxon
10 Howard Boulevard
Mount Arlington, NJ
(973) 398-6868
($5 drop-off fee; $19.00/exchange for new valve style; $21/exchange for old valve style)
Lowe's
20 International Drive South
Flanders, NJ (Mount Olive)
(973) 426-0634
(Free drop-off; $20.01/exchange for new cyl.)
Mini Mart
3 Netcong Road
Budd Lake, NJ (Mount Olive)
Forrest Lumber
86 Route 46
Mountain Lakes, NJ
Circle Mobil
10 Route 46 & Route 183
Netcong, NJ
(973) 347-9867
($19.95/refill new valve style cyl.; $31.95/upgrade to new valve style)
Hiawatha Sunoco
31 N. Beverwyck Road
Lake Hiawatha, NJ (Parsippany)
($39.99/exchange if it is upgradeable; $59.99 if it is not upgradeable)
Synergy Gas
3129 Route 46
Parsippany
973-334-3800
(Free if buying a new cylinder; $10 if not)
Kwik Stop Mobil
3440 U.S. Highway No. 46
Parsippany, NJ
(973) 335-5454
($18/exchange)
Moso's
730 U.S. Highway No. 46 West
Parsippany, NJ
($19/exchange; $38/upgrade to new valve)
Parsippany Exxon
3019 U.S. Highway No. 46
Parsippany, NJ
(973) 402-7273
Parsippany Shell
420 N. Beverwyck Road
Parsippany, NJ
(973) 448-5912
(No charge to drop off old cyl.; $48/new cyl.)
Parsippany Sunoco
1947 U.S. Highway No. 46 & Littleton Road
Parsippany, NJ
($20.99/drop-off; $51.99/exchange for new cyl.)
Grow Rite Nursery
30 Hillview Road
Pequannock, NJ
Lakes Automotive Repair
11 Lakeside Avenue (Mobil)
Pompton Lakes, NJ
Ralson's Sunoco
736 Hamburg Turnpike
Pompton Lakes, NJ
Rentals Unlimited
191 Route 23
Pompton Plains, NJ
973-839-1200
(Free)
Park Union Building Supplies, Inc.
243 S. Salem Street
Randolph, NJ
973-366-0345
($11.95/cylinder)
Randolph Mobil
258 South Salem Street
Randolph, NJ
Town Line Hardware
1152 State Highway No. 10
Randolph, NJ
973-584-4334
($10/cylinder)
Home Depot
106 Route 23 North
Riverdale, NJ
A&A Propane
99 Cobb Street
Rockaway, NJ
973-627-1938
($5/cylinder recycle or $10/cylinder retrofit)
Rockaway Mobil
51 Hibernia Road
Rockaway, NJ
(973) 625-3793
($18/cylinder)
Bain's Mobil
Route 10 and South Street
Succasunna, NJ
(973) 584-0670
(N/C for drop-off; $35 to upgrade; $18/even exchange)
Eyland Texaco
57 Route 10 East
Succasunna, NJ
(N/C for drop-off; $18/exchange for new cyl.)
Kelly's Market
601 Route 46 West
Kenvil, NJ
(973) 584-4570
($20.13/exchange for new cyl.; $10 extra charge if you have old valve style)
Walt's Hardware
652 Route 46
Kenvil, NJ (Roxbury)
(973) 584-7522
($18/cyl. exchange for new valve style)
Long Valley Mobil
Route 24 and Old Farmers Road
Long Valley, NJ (Washington Twp.)
Motiva Shell
55 State Route 15
North/Berkshire Valley Rd.
Wharton, NJ
Quick Mart
350 North Main Street
Wharton, NJ
($17.95/exchange for new cyl.)
Wharton Sunoco
210 Route 15 South
Wharton, NJ
($18.99/exchange; $10 extra if you have old valve style)
Agway Propane
Route 31 North
Washington, NJ (Warren County)
(Free)