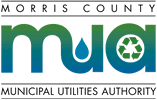 Transfer Station Schedule
(Closed Sundays)

Morris County
Municipal Utilties Authority
Transfer Station Schedule
(Closed Sundays)
Solid Waste Material Data Sheet

Street Sweepings
Category: Bulky
Activity Type: Recycling

Management Issues: Road cleanup materials may be considered as one of two categories as a function of the type and amount of contaminants present. These are as follows: 1) Road cleanup material that contain hazardous waste, and 2) Road cleanup material classified as waste type ID 10 municipal solid waste.
Regulations:

Use the link below to read NJDEP's guidance document on Street sweepings.

Special Handling: This material requires special handling other than traditional disposal and recycling facilities.
Facilities That Manage Street Sweepings

J. Manzo Recycling
55 Highway 34
Matawan, NJ 07747
Tel: 732-946-7100

&nbsp

Mazza & Sons
3230 Shafto Rd.
Tinton Falls, NJ 07753
Tel: 732-687-9737

&nbsp

South State
Reeves Rd.
Bridgeton, NJ 08302
Tel: 856-451-5300

&nbsp

Tilcon New York, Inc. (Formerly Mt. Hope)
625 Mt. Hope Road
Wharton, NJ 07885
Tel: (973) 366-7741 Fax: (973) 328-8490

&nbsp
Pounds Per Unit Conversions
Each Pound weighs 1 pounds.
Each Ton weighs 2000 pounds.