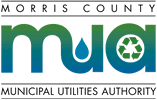 Transfer Station Schedule
(Closed Sundays)

Morris County
Municipal Utilties Authority
Transfer Station Schedule
(Closed Sundays)

F.A.Q. Batteries (Auto & Boat)
The MCMUA operates one of NJ's most comprehensive household hazardous waste (HHW) programs. This F.A.Q. page and information on hazardous materials is intended as a guide about HHW materials as well as the MCMUA's HHW program. This information is a general guide and does not constitute official rule, regulation or law.
---
Hazards
Automotive batteries contain sulfuric acid that can burn skin.

Handling
Handle batteries with acid resistant or leather gloves.
Keep sparks and flames away from batteries and don't smoke nearby.
Never place metal objects on top of the battery because it can cause sparks. Remove rings, chains, and other metallic items before handling.
Keep batteries right side up.
Carry in a non-metallic, leak proof container.
If battery leaks, neutralize any spilled acid with baking soda or calcium carbonate (lime). Flush area with water.
Carry in a non-metallic, leak proof container.
If acid comes in contact with skin, flush area with water immediately, and seek medical attention if burning continues.

MCMUA's Facility Database
Management Options
Do not throw in the trash.
Most automotive battery retailers will accept used batteries when purchasing a new one.
Take to community recycling center, if available.
All asbestos materials must be disposed of in landfills permitted to receive asbestos.
Take to service station or repair garage that accepts automotive batteries. Many garages, auto salvage operations, and scrap metal yards will take automotive batteries, provided they are not broken or leaking. Some will pay approximately $1 each. Consult Recycling Services Directory for closest locations.
Most household hazardous waste events accept automotive batteries.

Morris County municipal recycling depots that accept car and boat (lead-acid) batteries
Business Auto & Boat Battery Drop-off Sites - Also check local auto parts stores to see about acceptability.
Statewide Battery Recovery
73 Hyatt Road
Branchville, NJ 07826
973-875-4885
Apollo Tire & Automotive Center
U.S. Highway No. 46 West & Myers Ave.
Denville, NJ
973-625-0213
Approved Auto Electric Exchange
433 Route 46 East
Hackettstown, NJ 07840
908-850-6665
Interstate Battery System of Northern Jersey
112 East Avenue; Unit 2
Hackettstown, NJ 07840
908-852-8030
Raritan Metals
999 Mt. Kemble Avenue
Harding Township, NJ
973-425-2000
Dornick Service Center, Inc.
98 Main Street
Madison, NJ
973-822-0488
Hi-Temp Specialty Metals, Inc.
34 West Main Street
Mendham, NJ
973-543-5640
V & V Recycling, Inc.
Main Road
Montville, NJ
973-334-0073

Melanga's Automotive
39 Hamburg Turnpike
Riverdale, NJ

Napa Auto Parts
15 Newark-Pompton Turnpike
Riverdale, NJ
J. Donofrio Metals Co.
Gill Avenue
Rockaway, NJ
973-625-3737
Raimo of Stanhope, Inc.
U.S. Highway No. 206
Stanhope, NJ
973-347-4545

Rockaway Recycling
311 W. Main Street
Rockaway, NJ
973-625-9560
Interstate Battery System of Northwest Jersey
1-800-564-6644