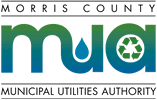 Transfer Station Schedule
(Closed Sundays)

Morris County
Municipal Utilties Authority
Transfer Station Schedule
(Closed Sundays)
Solid Waste Material Data Sheet

Class B Recyclable
Category: Bulky
Activity Type: Recycling

Management Issues:

This is a material defined to fit NJDEP facility approval regulations. As such, Class B facilities accept Class B Materials for recycling.

To be Class B materials and to be eligible to be recycled at Class B recycling facilitiies, the Class B material must be separated from waste being disposed of and cannot be commingled between Class B material types.
Regulations: Definition N.J.A.C. 7:26A-1.3
"Class B recyclable material" means a source separated recyclable material which is subject to Department approval prior to receipt, storage, processing or transfer at a recycling center in accordance with N.J.S.A. 13:1E-99.34b, and which includes, but is not limited to, the following:
1. Source separated, non-putrescible, waste concrete, asphalt, brick, block, asphalt-based roofing scrap and wood waste;
2. Source separated, non-putrescible, waste materials other than metal, glass, paper, plastic containers, corrugated and other cardboard resulting from construction, remodeling, repair and demolition operations on houses, commercial buildings, pavements and other structures;
3. Source separated whole trees, tree trunks, tree parts, tree stumps, brush and leaves provided that they are not composted;
4. Source separated scrap tires; and
5. Source separated petroleum contaminated soil.
Facilities That Manage Class B Recyclable

A-L Services (Morris Township Investment)
57 East Hanover Avenue
Morris Plains, NJ 07950
Tel: 201-841-3910 Fax: 973-394-9880
Email: cappleby@tfuf.net
WWW: www.a-lservices.com
&nbsp

Bednar Landscaping Services
501 Division Street
Boonton, NJ
Tel: 973-299-1356 Fax: 973-299-1426

&nbsp

Collinson Brothers Landscaping
183 West Dewey Ave.
Wharton, NJ
Tel: 973-989-8689 Fax: 973-989-8005

&nbsp

Long Hill Township
1223 Valley Rd
Long Hill Township, NJ
Tel: 908-647-0070 Fax: 908-647-4150
Email: roads@longhillnj.gov
WWW: longhillnj.gov
&nbsp

One Source Landscape and Mason Supply, LLC
420 Route 15
Rockaway, NJ
Tel: 973-659-1616 Fax: 973-659-1313

&nbsp

Reliable Paper Recycling, Inc.
1 Caven Point Avenue
Jersey City, NJ 07305
Tel: 201-333-5244 x132 Fax: 201-333-4135
Email: lou@reliablepaperrecycling.com

&nbsp

Supply Center of Long Valley, Inc (Hoffman Supply)
35 East Mill Road
Long Valley, NJ 07853
Tel: (908) 876-3111 Fax: 908-876-5597
Email: hgpro@hotmail.com
WWW: www.hoffmanssupply.com/
&nbsp

Toby Barkman Excavating
663 Mt. Kemble Avenue
Harding Twp., NJ
Tel: 908-832-7757 Fax: 908-832-1051

&nbsp
Pounds Per Unit Conversions
Each Pound weighs 1 pounds.
Each Ton weighs 2000 pounds.