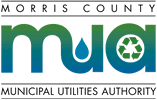 Transfer Station Schedule
(Closed Sundays)

Morris County
Municipal Utilties Authority
Transfer Station Schedule
(Closed Sundays)
Solid Waste Material Data Sheet

Class C Recyclable
Category: Organics
Activity Type: Recycling

Management Issues:

This is a material defined to fit NJDEP facility approval regulations. As such, Class C facilities accept Class C Materials for recycling.

Yard trimmings, as designated as Class C recyclables, are mandated to be source separated and recycled. The food waste portion Class C is not mandated to be source separated and recycled.

Regulations: Definition N.J.A.C. 7:26A-1.3
"Class C recyclable material" means a source separated compostable material which is subject to Department approval prior to the receipt, storage, processing or transfer at a recycling center in accordance with N.J.S.A. 13:1E-99.34b, and which includes, but is not limited to, organic materials such as:
1. Source separated food waste;
2. Source separated vegetative food waste; and
3. Source separated yard trimmings.
Facilities That Manage Class C Recyclable

Green Pond Corp.
1 Old Lane
Rockaway, NJ 07435
Tel: 973-697-3736 Fax: 973-697-1869

&nbsp

MCMUA Camp Pulaski Compost Facility
Old Waterloo Village Road
Mt. Olive, NJ
Tel: 973-682-4178 Fax: 973-285-8397
Email: sadams@co.morris.nj.us
WWW: mcmua.com/Composting/index.htm
&nbsp
Pounds Per Unit Conversions
Each Pound weighs 1 pounds.
Each Ton weighs 2000 pounds.