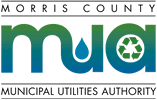 Transfer Station Schedule
(Closed Sundays)

Morris County
Municipal Utilties Authority
Transfer Station Schedule
(Closed Sundays)
Solid Waste Material Data Sheet

Household Hazardous Waste
Category: Hazardous
Activity Type: Disposal

Special Handling: This material requires special handling other than traditional disposal and recycling facilities.
Facilities That Manage Household Hazardous Waste

MCMUA Household Hazardous Waste Facility
Mount Olive Transfer Station
168 Gold Mine Road
Mount Olive, NJ 07836
Tel: (973) 829-8006 Fax: (973) 285-8397
WWW: mcmua.com/sw_hhw_pfac.asp
&nbsp
Pounds Per Unit Conversions
Each Pound weighs 1 pounds.
Each Ton weighs 2000 pounds.