Transfer Station Schedule
(Closed Sundays)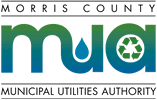 Holiday Season Recycling Schedule:
No Collection - Mon., 12/26/22 or 1/2/23

Morris County
Municipal Utilties Authority
Join
via Webex or use the call in number: 408-418-9388 with Access code: 2343 663 3444.
Click to go to Meeting Webpage
Holiday Season Recycling Schedule:
No Collection - Mon., 12/26/22 or 1/2/23
Transfer Station Schedule (Closed Sundays)
Solid Waste Material Data Sheet

Wood Scraps
Category: Bulky
Activity Type: Recycling

Facilities That Manage Wood Scraps
Pounds Per Unit Conversions
Each Cubic Yard weighs 363.62 pounds.
Each Cubic Yard-Pallets weighs 285.7 pounds.
Each Pound weighs 1 pounds.
Each Ton weighs 2000 pounds.