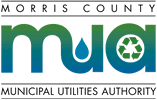 Transfer Station Schedule
(Closed Sundays)

Morris County
Municipal Utilties Authority
Transfer Station Schedule
(Closed Sundays)
Solid Waste Material Data Sheet

Type 10C NonRegulated Medical Waste
Category: Household/Commercial
Activity Type: Disposal

Management Issues: This waste, classified as Type 10C, includes anything which a patient may have touched (e.g. tongue depressors, examining table paper, cups, bibs, tubing, etc.) but is not Regulated Medical Waste (RMW) as defined in N.J.A.C. 7:26-3A.6(a). Since this waste is not RMW it can be collected by a normal solid waste collection company for transport to one of the Morris County Transfer Stations. This waste is disposed of at the transfer stations at slightly higher rates than non-medical solid waste but typically much less expensive than RMW. Because this non-RMW is more expensive than non-medical solid waste, it must be delivered to the transfer stations separately from non-medical solid waste. You must make arrangements with your solid waste collector to provide you with a dumpster for Non-RMW. Many health care organizations over-classify Non-RMW as RMW and end up paying much more to manage their waste than they have to.
Waste Flow Control: If generated in Morris County, this material is required to go to the MCMUA transfer stations if it is being disposed. Note, waste flow control does not apply to recyclables that are source separated.
Special Handling: This material requires special handling other than traditional disposal and recycling facilities.
Facilities That Manage Type 10C NonRegulated Medical Waste

Chilton Memorial Hospital
West Parkway
Pompton Plains, NJ

&nbsp
Pounds Per Unit Conversions
Each Pound weighs 1 pounds.
Each Ton weighs 2000 pounds.