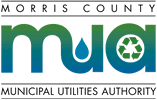 Transfer Station Schedule
(Closed Sundays)

Morris County
Municipal Utilties Authority
Transfer Station Schedule
(Closed Sundays)
Solid Waste Material Data Sheet

Batteries (Dry Cell)
Category: Hazardous
Activity Type: Recycling

Management Issues: Figuring out how to manage batteries can be as easy as 1-2-3. One (1), throw alkaline (non-hazardous and use-once) dry-cell batteries into the trash; two (2), recycle rechargeable batteries using call2recycle.orgdrop-off boxes; and three (3), take all other types of batteries to a household hazardous waste disposal program where they will be properly managed as hazardous waste.


Click here to view this information as a 2-page, downloadable and printable PDF.

Handling Tips: The Rechargeable Battery Recycling Corporation (RBRC) operates Call2Recycle, a free rechargeable battery recycling program. Call2Recycle sets up retailers and public agencies as rechargeable battery drop-off locations at no cost to the participant. Currently, Home Depot, Radio Shack, Lowe's and Verizon Wireless all participate in the Call2Recycle program at all their retail locations. These locations are provided with a drop-off box with small plastic bags so the batteries can be individually bagged in accordance with the new DOT regulations. The RBRC pays all the costs associated with providing drop-off boxes, including transportation and recycling.


Call 1-877-2-RECYCLE or use their website at http://www.call2recycle.org to find the closest public drop-off point. Additionally, Call2Recycle will provide free-of-charge drop-off boxes to any non-residential entity for the collection and recycling of their own rechargeable batteries. All one has to do is sign up online at http://www.call2recycle.org. Retailers and community recycling centers open to the public will be listed on the Call2Recycle zip code locator and toll-free help-lines to encourage residents to recycle. Additionally, public agencies and businesses can still participate in the Call2Recycle program without being advertised as a public drop-off location if they do not want to listed as such. Since everything is free of charge, the MCMUA is encouraging every business and/or public agency to request a drop-off box for its office or work site.

Regulations: Mandated to be source separated and recycled are hazardous dry-cell batteries only(#2, #3 and older #1s). These include rechargeable batteries (#2), such as nickel-cadmium, nickel-iron, nickel metal hydride, lithium ion, small sealed lead acid, etc. These are often used as substitutes for non-rechargeable batteries (#1) in standard sizes such as AAA, AA, C, D and 9V. Rechargeable batteries (#2) are commonly found in cordless tools, cellular and cordless phones, laptop computers, cameras, remote controls, toys, etc. Also included in this definition are non-rechargeable batteries (#3) that are hazardous as defined by the Resource Conservation Recovery Act ("RCRA"), regardless of the RCRA exclusion of household waste from the definition of hazardous waste pursuant to 40 C.F.R. 261.4(b).


Non-rechargeable, hazardous batteries include older (pre-circa 1994) alkaline and carbon zinc batteries (#1) as well as silver oxide, mercury and magnesium button-type batteries, etc. (#3)

It should be noted that domestically manufactured alkaline and carbon zinc non-rechargeable batteries (#1) made after circa 1994 eliminated mercury content to the point that they should not be considered RCRA hazardous and therefore are not included in this material category as being mandated to be source separated and recycled. These non-hazardous batteries (#1) should be disposed of in the ordinary garbage.

At the beginning of 2010, new U.S. Department of Transportation (DOT) regulations regarding the management of dry-cell batteries throughout the United States will go in effect. Because dry-cell batteries can short circuit and potentially catch fire while being transported, the DOT will require enclosing each hazardous dry-cell battery in a plastic bag to cover its terminals prior to transport.

Mandated Recycling: If generated in Morris County, this material is required to be separated at the source by the waste generator and ultimately recycled. The material may not be mixed with garbage and additionally, materials mandated to be source separated and recycled cannot be separated from disposables by anyone or any facility but the generator at the site where the recyclables and disposables are generated. A materials recovery facility may not perform separation of recyclables from disposables on behalf of the waste generator.
Special Handling: This material requires special handling other than traditional disposal and recycling facilities.
Facilities That Manage Batteries (Dry Cell)
Pounds Per Unit Conversions
Each Pound weighs 1 pounds.
Each Ton weighs 2000 pounds.