Transfer Station Schedule
(Closed Sundays)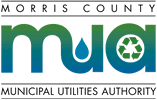 Holiday Season Recycling Schedule:
No Collection - Mon., 12/26/22 or 1/2/23

Morris County
Municipal Utilties Authority
Join
via Webex or use the call in number: 408-418-9388 with Access code: 2343 663 3444.
Click to go to Meeting Webpage
Holiday Season Recycling Schedule:
No Collection - Mon., 12/26/22 or 1/2/23
Transfer Station Schedule (Closed Sundays)

F.A.Q. Cell Phones
The MCMUA operates one of NJ's most comprehensive household hazardous waste (HHW) programs. This F.A.Q. page and information on hazardous materials is intended as a guide about HHW materials as well as the MCMUA's HHW program. This information is a general guide and does not constitute official rule, regulation or law.
---
Hazards
They contain rechargeable batteries which need to be recycled sinc ethese rechargeables can potentially be hazardous especially is exposed to moisture.
MCMUA's Facility Database
Management Options

The Rechargeable Battery Recycling Corporation's "Call2Recycle" program is a free and easy way to recycle old cell phones and rechargeable batteries from cordless electronic products. Visit www.call2recycle.org for more details
Other cell phone recycling Web sites include: