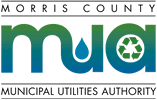 Transfer Station Schedule
(Closed Sundays)

Morris County
Municipal Utilties Authority
Transfer Station Schedule
(Closed Sundays)
Solid Waste Material Data Sheet

Anti-freeze
Category: Hazardous
Activity Type: Recycling

Handling Tips: Clean up all spill on the ground because the sweet flavor or antifreeze if often licked off the ground by animals.
Special Handling: This material requires special handling other than traditional disposal and recycling facilities.
Facilities That Manage Anti-freeze
Pounds Per Unit Conversions
Each Gallon weighs 7 pounds.
Each Pound weighs 1 pounds.
Each Ton weighs 2000 pounds.