Transfer Station Schedule
(Closed Sundays)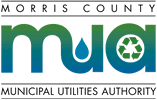 2022 Thanksgiving Recycling Schedule:
No Collection on Thanksgiving, 11/24/22
Boonton Town's make-up Wed., 11/30/22
Boonton Township's make-up Fri., 12/2/22
Thanksgiving Recycling Tips

Morris County
Municipal Utilties Authority
2022 Thanksgiving Recycling Schedule:
Boonton Town's
make-up Wed., 11/30/22
Boonton Township's
make-up Fri., 12/2/22
Thanksgiving Recycling Tips
Transfer Station Schedule (Closed Sundays)

Public Bids and Notices
Public notice and other notice of proposals being solicited by the MCMUA through a fair and open process in accordance with N.J.S.A. 19:44A-20.4, et. seq. are provided below.
Current Public Notices
Morris County Municipal Utilities Authority
NOTICE

The 5:30 P.M., December 6, 2022 Regular Meeting of the Morris County Municipal Utilities Authority (MCMUA) will be held by both remote communication and in person at the MCMUA offices located at 214A Center Grove Road, Randolph, NJ 07869. One half hour prior to the meeting, remote access information will be posted on the MCMUA's website (http://mcmua.com) so members of the public can join the MCMUA Board meeting.

In accordance with the Open Public Meetings Act, notice of the location, date and time of this meeting was made by posting on the MCMUA website, the Morris County Clerk's bulletin board and the officially designated newspapers for the MCMUA. The meeting may be attended in person or through remote communication in conformance with the directives of the State of New Jersey. Additional notice regarding remote public access is provided at the MCMUA entrance, on its website and in the Daily Record.

Larry Gindoff, Executive Director
Dated: November 22, 2022
Bid / Proposal Openings
There are currently no bid opening scheduled
Recent Bid/Procurement Results
Current Requests for Proposals
Click here to download entire Bid Specification for Sale of Water Capital Improvements and Easement located in Mendham Township
NOTICE TO BIDDERS

NOTICE IS HEREBY GIVEN that the Morris County Municipal Utilities Authority (MCMUA) will be requesting bids for the purchase of the following Water Capital Improvements and Easement:

The MCMUA is seeking bids for the purchase of Capital Improvements consisting of 1.56 miles (8,220 feet) of 12" Ductile Pipe Water Main. Beginning at intersection of Old Brookside Road and Woodland Avenue and ending at intersection of Cold Hill Road and Mountainside Road. There are six 12" mainline Gate Valves. Two 12" mainline Butterfly Valves. Six Fire Hydrant Assemblies. One Air Release Chamber which consists of a 7 ft. x 7 ft. x 7 ft. concrete chamber with a 4" Air Release Valve, 6" Air Vent and other piping. Also included in the assets are two PRV (Pressure Reducing Valve) / Meter Chambers; one at the intersection of Old Brookside Road and Woodland Avenue and the other one on Cold Hill Road before Mountainside Road. These Chambers each consist of a 17 ft. length x 10 ft. width x 7 ft. Height Concrete Chamber with a 4" PRV, a 6" Surge Valve, a 6" Turbine Meter and other piping. Both Chambers are equipped with Heaters, De-Humidifiers, Sump Pumps, Exhaust Fans, Stair Ladders and Lighting (collectively hereafter referred to as "Capital Improvements) together with the assignment of MCMUA's Easement for the Old Brookside Meter Chamber, located on Block 120, Lot 1, on Tax Map #19 of the Township of Mendham, known as 54 Woodland Road, owned by Stephen Crescentini (the "Easement"). The Sale of the Capital Improvements shall include in assignment of any and all interests that the MCMUA has in the subject Easement.

Bid proposals shall be submitted on the forms provided in the manner designated and required in the specifications, enclosed in a sealed envelope, and plainly marked on the outside with the name and address of the bidder and the purpose for which the bid is being submitted and the envelope shall be addressed to:

Larry Gindoff, Executive Director
Morris County Municipal Utilities Authority
214A Center Grove Road, Randolph, New Jersey 07869

Sealed bid proposals are due and shall be submitted no later than Tuesday, December 6, 2022 at 2:00 pm, at which time the bid proposals shall be opened. Any bid not in the possession of the MCMUA at the above location by the specified time of bid opening will not be accepted.

Bid packages shall be available at the MCMUA's office, 214A Center Grove Road, Randolph, New Jersey 07869 during regular business hours or at the MCMUA's website at https://mcmua.com/about_bids.asp. The bid package shall consist of this Notice to Bidders, the Bidder Instructions, Bidder Proposal and the Purchase and Sale Contract.

The bid specifications shall set forth the additional conditions and requirements.

Larry Gindoff
Executive Director

Dated: November 25, 2022