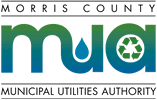 Public Bids and Notices
Public notice and other notice of proposals being solicited by the MCMUA through a fair and open process in accordance with N.J.S.A. 19:44A-20.4, et. seq. are provided below.
Public Notices
Morris County Municipal Utilities Authority
NOTICE
The 7:00 P.M., May 10, 2022 Regular Meeting of the Morris County Municipal Utilities Authority (MCMUA) will be held by both remote communication and in person at the MCMUA offices located at 214A Center Grove Road, Randolph, NJ 7869. One half hour prior to the meeting, remote access information will be posted on the MCMUA's website (http://mcmua.com) so members of the public can join the MCMUA Board meeting.
In accordance with the Open Public Meetings Act, notice of the location, date and time of this meeting was made by posting on the MCMUA website, the Morris County Clerk's bulletin board and the officially designated newspapers for the MCMUA. The meeting may be attended in person or through remote communication in conformance with the directives of the State of New Jersey. Additional notice regarding remote public access is provided at the MCMUA entrance, on its website and in the Daily Record.
Larry Gindoff, Executive Director
Dated: May 6, 2022
Bid / Proposal Openings
There are no up coming bid opening being provided at this time.
Recent Bid/Procurement Results
Rebid for the Mount Olive Tipping Floor Restoration, Contract No. 2021-1

Click here for a copy of the Mt. Olive Tipping Floor Restoration Bid Notice.
Bid Submissions
Current Public Notices and/or Requests for Proposals
Notice is hereby given by the Morris County Municipal Utilities Authority ("MCMUA") that Request for Quotes will be received by the Morris County Municipal Utilities Authority ("MCMUA") on June 3, 2022 at 11:00 a.m. prevailing time in the Morris County Municipal Utilities Authority ("MCMUA") office located at 214A Center Grove Rd. Randolph, NJ 07869 at which time and place the proposals will be opened publicly and read for the following:
RFP#2022-VW1 MARKETING OF VEGETATIVE WASTE RECYCLABLE MATERIALS
Click here for legal notice issued May 5, 2022