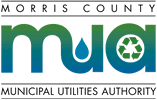 6/7/2021 - Parsippany Compost Site Construction - Pickup of residential mulch and compost SUSPENDED and a 3-day total site closure starting 6/21 (
click here
).

Morris County
Municipal Utilties Authority
6/2/2021 - Parsippany Compost Site Construction - Pickup of residential mulch and compost suspended and a 3-day total site closure starting 6/21 (
click here
).

Public Bids and Notices
Public notice and other notice of proposals being solicited by the MCMUA through a fair and open process in accordance with N.J.S.A. 19:44A-20.4, et. seq. are provided below.
Bid / Proposal Openings
The are no procurement openings currently scheduled.
Recent Bid/Procurement Results
The are no procurement results currently being noticed.
Current Public Notices and/or Requests for Proposals