Transfer Station Tip Fees
Users first weigh their vehicles at the scalehouse prior to dumping their garbage on a tipping floor. The vehicle then gets weighed-out at the scalehouse to determine the weight of the waste dumped. The cost is calculated and deducted from an established account or payment by check is required at that time. Click on "Setting Up A Transfer Station Account" for more information regarding payments. Cash and credit cards are not accepted.
Construction Advisory - Parsippany Transfer Station
Construction activities to repair elements of the MCMUA's Parsippany Transfer Station are scheduled to begin in October 2019 and last through February 2020. Over two construction phases, the MCMUA will repair the tipping floor while also making other improvements to the facility. During the construction the facility will remain open to accept solid waste but portions of the site will be closed at times. Some delays should be expected during construction and the MCMUA requests patience as we try to make our transfer station better for our customers. The MCMUA's Mount Olive transfer station is always available for use to dispose of any Morris County solid waste from any municipality if any customers prefer to use that facility during construction
Tire recycling and the acceptance of tires at the Parsippany transfer will be suspended during construction. Click here for a listing of potential tire recycling markets in and around Morris County for use during this construction. We apologize for this inconvenience.
Materials Accepted and Fees
(effective January 1, 2020)
Starting January 2, 2020, the cost to tip solid waste increased by 1.9% or by $1.90/ton.

$99.75/ton - Type 10 (municipal, residential, commercial,industrial)
$99.75/ton - Type 13 (bulky)
$99.75/ton - Type 13C (construction and demolition)
$99.75/ton - Type 23 (vegetative)
$99.75/ton - Type 25 (animal processing)
$99.75/ton - Type 27 (non-hazardous industrial)*
Suspended During Construction - Tire Recycling

* May require pre-approval prior to acceptance
All disposal fees listed include the $3.00/ton New Jersey recycling tax that took affect on April 1, 2008. Click here for more information on this N.J. Recycling Tax.
All disposal fees include a host community benefit of approximately $5.11/ton. The host community benefit is comprised of a $4.50/ton benefit paid directly to the host communities plus a 10% discount on the waste the two host municipalities tip at the transfer station. This 10% discount spread amongst all the tons tipped at the transfer stations ranges from approximately $0.60/ton to $0.65/ton and fluctuates based on the relative amount of waste tipped by the host communities versus the tonnages from all the other transfer station customers.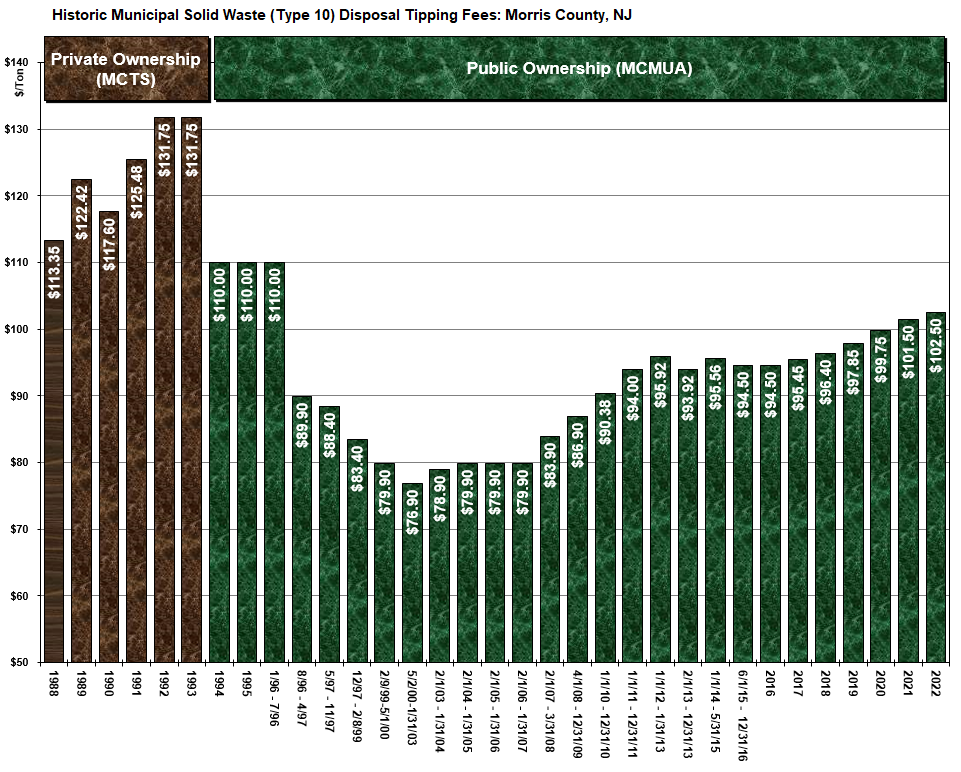 Announcements Regarding Pricing and Tipping Fees