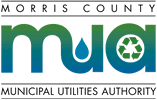 Transfer Station Schedule
(Closed Sundays)

Morris County
Municipal Utilties Authority
Transfer Station Schedule
(Closed Sundays)
Solid Waste Material Data Sheet

Wood (Chemically Treated)
Category: Bulky
Activity Type: Disposal

Management Issues: The MCMUA transfer stations cannot accept creosote treated utility poles and railroad ties unless the wood is significantly rotted to the point that most of the creosote has leached out of the wood and the wood is cut into sections no bigger than three (3) feet in length.
Regulations: NJDEP approves power generating facilities to receive N.J. Generated chemically treated wood scrap for incineration and energy recovery. This type of wood is often not accepted through the transfer stations.
Special Handling: This material requires special handling other than traditional disposal and recycling facilities.
Facilities That Manage Wood (Chemically Treated)

Koppers Industries Muncy Cogeneration Plant
Williamsport, PA
Tel: 412-227-2055

&nbsp

KTI - Portland, Me.
Portland, ME
Tel: 1-800-584-1115

&nbsp

Lancaster County RRF
Marietta, PA
Tel: 717-397-9968

&nbsp

New York State Electric and Gas
Binghampton, NY
Tel: 607-762-8884

&nbsp
Pounds Per Unit Conversions
Each Pound weighs 1 pounds.
Each Ton weighs 2000 pounds.