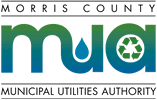 Transfer Station Schedule
(Closed Sundays)

Morris County
Municipal Utilties Authority
Transfer Station Schedule
(Closed Sundays)
Contact Finder
Pictured are 2018 MCMUA Board members: (top row, left to right) Frank Druetzler, Fletcher Platt, Laura Szwak, James Barry, Vincent Shindel, (bottom row, left to right) Dr. Arthur Nusbaum, William Hudzik (Chairman), Chistopher Dour (Vice Chairman)
(missing) Dr. Dorothea Kominos
Look up contact information of a variety of types of people including MCMUA staff and board members. This contact database can be filtered by contact type and town.
Select the conditions below then hit GO for a filtered contacts listing. (Use the "All" option at the top of a list to select all records for that condition rather than filtering by it.)
Select Contact Filter and Hit "Go"
Contact Listing: MCMUA Board From All Towns