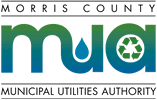 Transfer Station Schedule
(Closed Sundays)

Morris County
Municipal Utilties Authority
Transfer Station Schedule
(Closed Sundays)

F.A.Q. Compressed Gas Cylinders
The MCMUA operates one of NJ's most comprehensive household hazardous waste (HHW) programs. This F.A.Q. page and information on hazardous materials is intended as a guide about HHW materials as well as the MCMUA's HHW program. This information is a general guide and does not constitute official rule, regulation or law.
---

Returning Gas Cylinders to Supplier
As with most hazardous wastes, the best way to manage gas cylinders, canisters and cartridges is to avoid purchasing surplus amounts. This can best be accomplished by buying only what you need, by using all you buy, by emptying cylinders completely through routine use, and by not purchasing duplicate cylinders for those that are partially full in your inventory.

There are two types of cylinders
Cylinders supplied by industrial gas vendors (containing argon, carbon dioxide, helium, nitrogen, oxygen, air and other common gases) usually in cylinders with screw-top valve covers.
Specialty gases, supplied by various vendors, commonly in lecture bottles (usually 12-15 inches long and 2 inches in diameter).
Group 1 usually are provided on a rental basis and have a deposit on them. These can be returned through central stores to the vendor. Group 2 are usually sold outright but may in most cases be returned to the vendor at a cost of $0-250. If the cylinder is disposed of through a chemical waste contractor it will typically cost $100-1000 for disposal.
If a specialty gas is desired that is not available through the vendor, the best solution is to rent the next larger size cylinder, rather than purchase a lecture bottle that may cost several hundred dollars to dispose later, even if empty. Although vendor's designations vary for the next larger size, these cylinders are generally about 20 inches long and 4 inches in diameter. Although these cylinders are provided on a rental basis, they almost always cost less than the same product delivered in a lecture bottle. The cylinders contain more product but may be returned even if they are not empty. Alternatively, you may be able to work with the vendor to purchase partially filled cylinders if you don't need full ones. This is the most economical and environmentally sound choice when using small quantities of gases. For more information contact your customer service representative.
MCMUA's Facility Database
For disposal, it is recommended the following steps be taken:
Contact the manufacturer or vendor of the gas cylinder in question to see if it can be returned. Even if a vendor is not on the list on reverse, they might accept cylinder returns.
Follow instructions given by the vendor to ship the cylinder. They can provide the required shipping information.
The following companies accept returns of gas cylinders (as of November 15, 1999):
Air Products
12721 S. Wentworth
Chicago, IL 60628
773/785-3000 (Wanda)
Typical Charge: $0
Company picks up? No
Must be shipped back? Yes
Comments: User pays shipping
Aldrich
PO Box 335
Milwaukee, WI 53233
800/558-9160 - Customer Service
Typical Charge: $27
Company picks up? No
Must be shipped back? Yes
Comments: Empties only less than 6 months old. Need special form.
Cambridge Isotope Labs
50 Forntage Rd.
Andover, MA 01810-5413
800/322-1174
Typical Charge: $0
Company picks up? No
Must be shipped back? Yes
Comments: Write 'for disposal' Only accept returns on case by case basis.
Farchan Laboratories
2603 NW 74th Place
Gainesville, FL 32606
352/378-5864
Typical Charge: $0
Company picks up? No
Must be shipped back? Yes
Fluka - see Aldrich
Matheson
Manhattan Road & Richards St.
P.O. Box 96
Joliet, IL 60434
815/727-4848 -John Kraus
Fax: 815/727-1676
Typical Charge: $40
Company picks up? No
Must be shipped back? Yes
Comments: Will accept gases they still market. Purchase Order # required to process return request.
Merck Sharp Dohme Isotopes-see Cambridge
MG Industries
c/o S.J. Smith Welding
Bondville, IL 61815
217/863-2223 -Glenn Smith
Typical Charge: $0
Company picks up? No
Must be shipped back? Yes
Comments: If poison, will arrange shipment.
Morton International, Inc. - see Rohm Haas
Ozark Mahoning
5101 W. 21st St.
Tulsa, OK 74107
918/583-0851 -Greg Ward
Typical Charge: $0
Company picks up? No
Must be shipped back? Yes. Attn: Dale Fisher.
Comments: Follow applicable DOT regulations,
Pennwalt - see Ozark Mahoning
Pfaltz and Bauer
203/574-0075 -Doug Hughes
Typical Charge: $0
Company picks up? No
Must be shipped back? Yes
Comments: Only accept on case by case basis. Contact tech services first.
Rohm-Hass Metal-Organic Division
60 Willow St.
North Andover, MA 01845
978/557-1700-Cheryl
Typical Charge: $0
Company picks up? No
Must be shipped back? Yes
Comments: Must get authorization. Does not accept cylinders more than 5 years old.
Scientific Gas Products - see Scott Specialty Gases
Scott Specialty Gases
1290 Combermerb Street
Troy, MI 48083
810/589-2950 (MI Plant)
Contact: 630/860-1824 (Marty)
Typical Charge: $0
Company picks up? No
Must be shipped back? Yes
Comments: Mark "empty". (Only accepts empty cylinders)
Spectra Gases Inc.
80 Industrial Dr.
Alpha, NJ 08865
877/395-0128
Typical Charge: $0
Company picks up? No
Must be shipped back? Yes
Comments: Accepts empty Spectra cylinders only. Don't accept cylinders back (as of November 15, 1999)
AGA Gas
217/ 443-0204
Amersham
847/ 593-6300
American Environmental
800/ 842-1088
Atomergic Chemicals Corp
516/ 694-9000
(formerly Texas Alkyls)
800/ 828-7929
Farchan Labs
no longer in business
ICN Biomedicals
800/ 279-5490
Monsanto Co
800/ 635-8842

Phillips 66
800/ 858-4327
Pierce Chemical
800/ 874-3723

PCR Research Chemical
352/ 376-8246x381
Praxair (formerly Linde- Union Carbide)
217/ 367-1139
(local vendor: Depke)