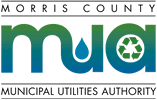 Transfer Station Schedule
(Closed Sundays)

Morris County
Municipal Utilties Authority
Transfer Station Schedule
(Closed Sundays)

F.A.Q. Photo Chemicals
The MCMUA operates one of NJ's most comprehensive household hazardous waste (HHW) programs. This F.A.Q. page and information on hazardous materials is intended as a guide about HHW materials as well as the MCMUA's HHW program. This information is a general guide and does not constitute official rule, regulation or law.
---
Hazards
Silver may be found in significant concentrations in fixer solution. Silver is a toxic contaminant that can disturb the biological action of a sewage treatment plant and harm aquatic life such as fish and other organisms.
Some fixer solutions are corrosive and can burn skin and eyes.
Some individuals are allergic to sulphites in photoprocessing solutions.

Handling
Protect eyes from splashes and skin from direct contact.
Store solutions in plastic buckets or bottles. Keep containers tightly closed when not in use.
Clearly label containers with the contents.
Store materials in a secure area that is locked and out of reach of children.
Keep dark room ventilated when using photographic chemicals.

Management Options
First, consult the manfacturer's safety data sheet (SDS) for information,
Photographic waste liquids should NOT be poured down the drain if connected to a septic system.
In sewered areas, developer and rinse solutions may be poured down the drain, however first check with your local sewerage authority for confirmation prior to disposal.
Some local photo processing businesses may accept silver bearing fixer waste for recycling and management.
Take spent fixer solutions to a HHW collection or commercial hazardous waste facility.