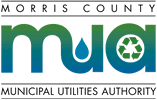 Transfer Station Schedule
(Closed Sundays)

Morris County
Municipal Utilties Authority
Transfer Station Schedule
(Closed Sundays)

F.A.Q. Adhesives and Glues
The MCMUA operates one of NJ's most comprehensive household hazardous waste (HHW) programs. This F.A.Q. page and information on hazardous materials is intended as a guide about HHW materials as well as the MCMUA's HHW program. This information is a general guide and does not constitute official rule, regulation or law.
---
Hazards
Adhesives may contain solvents and other toxic chemicals.
Among glues, the safest choices are white glue, glue sticks, library paste, and yellow glue. Select them whenever possible.

Handling
If you cannot use up an adhesive yourself, give it to someone who can, or take it to a household hazardous-waste collection site.
As a last resort, dry the adhesive. First, find a well-ventilated area away from children, pets, and sources of heat or flames— preferably outside. Wear chemical-resistant gloves, and avoid inhaling fumes.

MCMUA's Facility Database
Management Options
If you have a small amount of adhesive, open the container and let it dry. For larger amounts, spread the adhesive in thin layers on cardboard or newspapers. If the adhesive is in a tube, slit the tube for drying. For two-part adhesives, mix them together before letting them dry. When the adhesive has hardened, you can safely place it in the trash.
Water-based (non-combustible/ non-flammable) adhesives may be safely disposed of in the garbage.