Transfer Station Schedule
(Closed Sundays)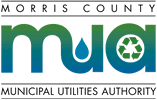 2022 Thanksgiving Recycling Schedule:
No Collection on Thanksgiving, 11/24/22
Boonton Town's make-up Wed., 11/30/22
Boonton Township's make-up Fri., 12/2/22
Thanksgiving Recycling Tips

Morris County
Municipal Utilties Authority
2022 Thanksgiving Recycling Schedule:
Boonton Town's
make-up Wed., 11/30/22
Boonton Township's
make-up Fri., 12/2/22
Thanksgiving Recycling Tips
Transfer Station Schedule (Closed Sundays)

Mendham Township
Curbside Recycling
The MCMUA provides curbside recycling collection service for Mendham Township residents. Recycling is picked up dual-stream with paper and bottles/cans collected on alternating Mondays. Weeks following a missed collection due to holiday or weather will have both set of materials (paper and bottles/cans) collected on the same day, yet in differnt containers. p>
Material Accepted For Curbside Recycling Collection by the MCMUA and Preparation Instructions
For Mendham Township, the MCMUA collects dual-stream recyclables on with paper and bottle/can collected on alternating Mondays . This means that aluminum, glass bottles and jars, steel cans and plastic containers (#1,#2,#5 only) can be mixed together for collection. In a separate container, place recyclable paper including newspaper, corrugated cardboard, junk mail, office paper, magazines, cartons, etc., for curbside collection. Additionally, none of the newspaper or cardboard needs to be bundled or tied. There is a 50-pound weight limit on each filled recycling container put out at curbside for collection by the MCMUA. We suggest no larger than 32-gallon containers so you don't go above the single container 50-pound limit. Use multiple conatiners for set-outs heavier than 50 pounds.
Mendham Township does not provide a municipal recycling depot where recyclables can be dropped off. If you missed a recycling collection, please hold on to and put out the recyclables during the next available collection.