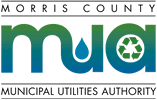 Transfer Station Schedule
(Closed Sundays)

Morris County
Municipal Utilties Authority
Transfer Station Schedule
(Closed Sundays)

Chatham Borough
Curbside Recycling
The MCMUA provides curbside recycling collection service for Chatham Borough residents every Friday. This collection is new beginning in January 2014.
Material Accepted For Curbside Recycling Collection by the MCMUA and Preparation Instructions
Starting on January 3, 2014, the MCMUA will collect single-stream mixed recyclables for Chatham Borough. This means that aluminum, glass bottles and jars, steel cans and plastic containers can be mixed with recyclable paper including newspaper, corrugated cardboard, junk mail, office paper, magazines, cartons, etc., for curbside collection. Additionally, none of the newspaper or cardboard needs to be bundled or tied. There is a 50-pound weight limit on the recycling container put out at curbside for collection by the MCMUA.
Chatham Borough also operates a municipal recycling depot where certain recyclables can be dropped off for recycling. Click here to read about the Chatham Borough municipal recycling depot.