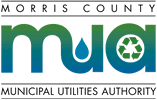 Transfer Station Schedule
(Closed Sundays)

Morris County
Municipal Utilties Authority
Transfer Station Schedule
(Closed Sundays)
Press Release - for immediate release
Counting Down to NJ's 2022 Plastic Carryout Bag and Polystyrene Foam Ban

New Jersey businesses can start preparing now for implementation of a new law, which takes effect May 4, 2022, and ends the use of single-use plastic carryout bags and polystyrene foam food service products at retail stores and food service businesses. The use of single-use paper carryout bags will also be prohibited at grocery stores equal to or larger 2,500 square feet.

Since November 4, 2021, plastic straws are now limited to by-customer-request-only. The NJ Business Action Center, the NJ Department of Environmental Protection, and the NJ Clean Communities Council are working together to help communities and businesses understand and comply with the law. The law prevents litter and encourages the use of reusable bags by phasing out single-use plastic and paper bags. This uniform statewide law preempts all local ordinances.
An explanation of the law, a discussion of frequently asked questions, and an easy-to-read chart explaining what businesses are affected and how to comply are available at www.business.nj.gov and https://nj.gov/dep/plastic-ban-law/#faqs. In addition, please visit www.BagUpNJ.com for free resources.
MCMUA News
MCMUA News Home