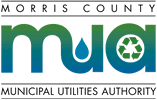 Transfer Station Schedule
(Closed Sundays)

Morris County
Municipal Utilties Authority
Transfer Station Schedule
(Closed Sundays)
Press Release - for immediate release
Latex Paint Is Not Hazardous Waste
The Morris County Municipal Utilities Authority (MCMUA) reminds homeowners that latex paint is not hazardous. How to tell if your paint is latex? Read the label. If the can's label states that the paint can be cleaned up using soapy water, it is latex. Because it is water-based, it is easy to dry out and dispose of in the trash. Remember, do not throw away liquid paint.
The MCMUA recommends using the paint up before disposing of it, but if you must throw it away, follow these simple steps:
Open the can of Latex paint and stir in kitty litter or a paint hardener. Keep stirring the kitty litter until the paint becomes concentrated and clotted.
| | |
| --- | --- |
| The finished product should be thick and clumpy, with the texture of oatmeal. Keep the lid off the can and throw the Latex paint into the trash. | For multiple cans of Latex paint, line a shallow box with a trash bag and mix paint with kitty litter. Once dried, throw the bag away in the garbage. |
Oil based paint is hazardous. If the label on the paint can reads cleanup with mineral spirits or turpentine, it must be taken to the MCMUA's household hazardous waste collection facility. Residents can make an appointment for disposal by going to www.MCMUA.com.
Click here to download our Paint Disposal Flyer
Want to watch Latex paint drying? Check out this short video on YouTube at: https://youtu.be/acPjTZplbbU

MCMUA News
MCMUA News Home