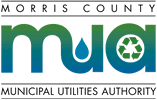 5/10/2021 - Acceptance of tires for recycling at the transfer stations is temporarily suspended.

Morris County
Municipal Utilties Authority
Netcong Borough Solid Waste Information

Netcong Borough
23 Maple Avenue
Netcong, NJ 07857
Tel: (973) 347-0252 Fax: (973) 347-3020
WWW: www.netcong.org

Contacts From Netcong Borough
Michael Canfield C.P.W.M., Clean Communities Coordinator
Netcong Borough
40 Maple Ave.
Netcong, NJ 07857
Tel: 973-347-6664 Fax: 973-347-0394
WWW: mcanfield@netcong.org
&nbsp
Michael Canfield, Recycling Coordinator
Netcong Borough
23 Maple Ave.
Netcong, NJ 07857
Tel: (973) 347-6664 Fax: (973) 347-0394
Email: mcanfield@netcong.org
WWW: www.netcong.org
&nbsp
---
Solid Waste Services In Netcong Borough

Curbside Garbage Collection
Program Description: The town provides for residential garbage collection. The municipality does not pay for the tipping fees.
Schedule: The entire town is collected once a week on Friday.
Service Provider: Gaeta Recycling, 278 West Railway Ave.,
Paterson, NJ 07503
Tel: 973-278-6625 Fax: 973-278-0162
WWW: gaetarecycling.com

Material Accepted

Type 10 Municipal Solid Waste (Disposal) Each household is permitted to place garbage containers at curbside after 6:00 the night before the scheduled weekly garbage collection. To prevent windblown litter please use containers with tight fitting lids.

Curbside Recycling Collection
Program Description: Netcong contracts for single-stream, all-in-one residential curbside recycling. Maximum weight of curbside recycling container is 50 pounds; use multiple containers if needed.
Schedule: Every other Tuesday.
Service Provider: Morris County Municipal Utilities Authority, 214A Center Grove Road,
Randolph, NJ 07869
Tel: 973-659-3490 Fax: 973-537-6495
Email: info@mcmua.com
WWW: www.mcmua.com

Material Accepted

Curbside Yard Waste Collection
Program Description: Curbside collection of vegetative waste.
Schedule: This collection is available periodically. Check with the town for specific dates.
Service Provider: Netcong Borough, 23 Maple Ave.,
Netcong, NJ 07857-1121
Tel: (973) 347-0252 Fax: (973) 347-3020
WWW: www.netcong.org

Material Accepted

Curbside Bulky Waste Collection
Program Description: Curbside collection of bulky waste with regular garbage. Two bulk items (such as furniture, box spring and mattress, carpets) may be put out on garbage collection day if a sticker ($10.00 per item) has been purchased in advance at Borough Hall.
Schedule: Collection is weekly. Check with the town for more information.
Service Provider: Gaeta Recycling, 278 West Railway Ave.,
Paterson, NJ 07503
Tel: 973-278-6625 Fax: 973-278-0162
WWW: gaetarecycling.com

Material Accepted
---
Municipal Recycling Depot(s) In Netcong Borough

Netcong Recycling Depot (Municipal Recycling Depot)
Flanders Road
Netcong, NJ 07857
Tel: (973) 426-7854 Fax: (973) 347-3020
WWW: www.netcong.org

Hours: Wed. 8:00 a.m. to Noon and Sat., 8:00 a.m. to 4:00 p.m.
Notes: As of August 2011 the Netcong recycling depot is accepting traditional recyclable materials mixed all together in one can to correspond with the way recyclables are now collected curbside.
Limitations: This facility is open to Netcong residents and small businesses only.
Facility Type: Municipal Recycling Depot


Acceptable Material - Recycling - Single-Stream - All-In-One
Acceptable Material - Recycling
---
Documents
Click below to view original documents regarding Netcong Borough. If inconsistencies are discovered between these documents and the information provided below, one should initially assume Netcong Borough document is correct as it was produced directly by the town. Please contact Netcong Borough to verify any issues you are uncertain about and please forward any corrections to the MCMUA at info@mcmua.com.

&nbsp