Transfer Station Schedule
(Closed Sundays)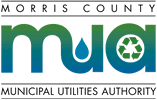 Holiday Season Recycling Schedule:
No Collection - Mon., 12/26/22 or 1/2/23

Morris County
Municipal Utilties Authority
Join
via Webex or use the call in number: 408-418-9388 with Access code: 2343 663 3444.
Click to go to Meeting Webpage
Holiday Season Recycling Schedule:
No Collection - Mon., 12/26/22 or 1/2/23
Transfer Station Schedule (Closed Sundays)

2016 Environmental Excellence Awards

The 28th Morris County
Awards Program
May 20, 2016, 12 noon
Frelinghuysen Arboretum, Morristown, NJ 07960

Welcome
Laura Szwak, Chairman, Morris County Municipal Utilities Authority

Fashion Show and Commentary
Liz Sweedy, Morris County Senior Recycling Specialist

Presentation of Awards
- Kathleen Hourihan, District Recycling Coordinator, MCMUA
- Larry Gindoff, Solid Waste Coordinator
And the awards go to…
The Power of Green Living, Leading,Teaching
Frank Cappuccio, Educator and Environmental Action Club, Morris Hills High School

Turning Limitations into Success!
Green Vision, Inc.,Tim Butler, President

Stellar Recycling Coordinator
Sarah Jane Noll, Chester Township Municipal Recycling Coordinator

Clean Water Stewardship
Raritan Headwaters Association, Bedminster

On Guard Against Litter!
Lt. Rob Scherr, Rockaway Township Police Department

Rx Bottle Reuse for the Malawi Project
Molly Szpakowski, Morris Catholic High School

Serving Up Waste Reduction
Holly Tighe, Director of Dining Services, Chartwells, County College of Morris

Leading by Example
Wilmington Paper Corporation, Montville Township

Hy Nadel Creativity Award "Every child is an artist." Pablo Picasso
Tricia Goginsky, Educator and Artist, Morris Knolls High School

Recipient of the Maraziti Falcon Environmental Excellence Scholarship
Grace Faulkner, Morris County School of Technology

2015 Poster Contest Winners
Jolie Chow, Morris Hills High School
Veronika Hammond, Morris Hills High School
Kate Rivera, Morris Knolls High School
Cristian van Rossen, Mt. Arlington Public School
Display Items
Blessing basket handmade in Ghana for The Blessing Basket Project. Helping artisans graduate from poverty. Available at Whole Foods Markets.
Special Thanks
David Schweidenback
Pedals for Progress & Sewing Peace
PO Box 312 , High Bridge, NJ 08829
Phone: 908-638-4811, www.p4p.org
Tricia Goginsky (teacher) and students of Morris Knolls High School
Emily Bohn-Drack (teacher) and students of Morris County School of Technology
A big thank you to our models