Join MCMUA Meeting 4/13/2021, 7pm

Join via Webex or use the call in number: 408-418-9388 with Access code: 129 877 6219.
Click to go to Meeting Webpage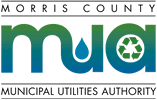 Morris County
Municipal Utilties Authority
Join MCMUA Meeting 4/13/2021, 7pm

Join via Webex or use the call in number: 408-418-9388 with Access code: 129 877 6219.
Click to go to Meeting Webpage

Bicycle Recycling
The Morris County Municipal Utilities Authority, in conjunction with Pedals for Progress, is sponsoring a used bicycle collection on:
Saturday, June 11, 2016
12 noon - 3:00 p.m.
County College of Morris,
(Parking Lot #1)
214 Center Grove Road,
Randolph, NJ 07869-2088
Click here for a PDF Flyer describing the 2016 Bike Collection
Pedals for Progress collects thousands of bicycles annually and sends this material wealth to needy people in developing countries. More than 62,000 bicycles have been shipped to countries in Latin America, Africa, and the Pacific Islands. In these countries, the bikes are reconditioned by partner agencies and distributed at low cost to poor working adults. These bikes provide them with reliable transportation for commuting to work, transporting produce to market, or accessing health care and other services. Steady employment for these adults is vital to the development and success for these economies.
It costs $30.00 to process, ship, rebuild, and distribute each bicycle. A $10.00 fee per bicycle is required to help defray shipping costs. All cash and material donations are fully tax-deductible, and a receipt will be available at the collection site. A few other items such as bicycle helmets and working sewing machines, both electric and non-electric, are acceptable, but the only charge is for bicycles ($10.00/bike) and sewing machines ($10.00/sewing machine).
The following are acceptable:
Bicycles in reasonably good condition ($10.00/bicycle)
Bike helmets (no charge)
Sewing machines (electric or non-electric) in good condition ($10.00 per sewing machine)

The following are NOT acceptable:
Bikes for parts only
Disassembled bikes
Bikes with bent frames, or very rusty frames
Tricycles
Other sporting goods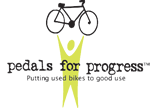 Pedals for Progress is a 501-(C)-(3) corporation and registered charity in the states of NJ, PA, VA, CT, MA, and VT. Brochures explaining this innovative program will be available at the collection site. For detailed information about Pedals for Progress overseas projects and a current schedule of bicycle collections, visit their web-site at www.p4p.org. If you have questions about the acceptability of your bicycle or need more information or directions, please call the MCMUA at (973) 285-8393.
Directions to County College of Morris

View Untitled in a larger map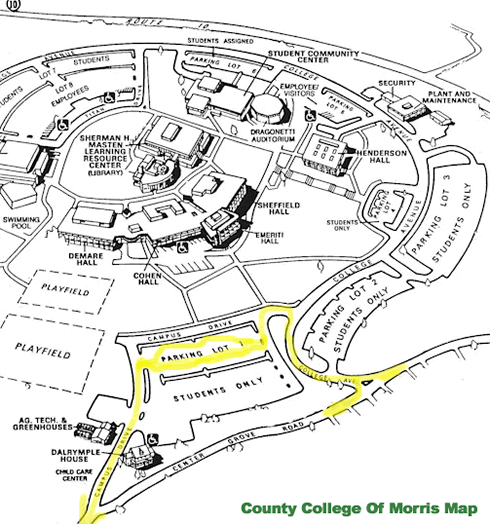 From the East:
Take Route 46 or I-80 to intersection of I-287 south in Parsippany. Remain on I-287 to Route 10 west. Continue on 10 west to Randolph (approx. 7 miles), noting Count College of Morris signs on right. Make left turn at light at Center Grove Road and Route 10 intersection. College entrance is 1/2 mile on right.
From the Northwest:
Travel south on Route 206 to Netcong circle. Transfer to Route 46 east and proceed to Ledgewood. At intersection, take Route 10 east to Center Grove Road, noting CCM signs. Turn right onto Center Grove Road; College entrance is on the right.