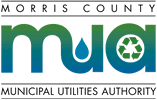 Transfer Station Schedule
(Closed Sundays)

Morris County
Municipal Utilties Authority
Transfer Station Schedule
(Closed Sundays)
MCMUA Transfer Station Safety and Operational Rules
Click here to download a PDF copy of these Safety and Operational Rules.
Each of us has the responsibility to make safety a primary concern. This objective is fundamental for our wellbeing as well as the efficient operation of our businesses. Therefore, it is imperative that all persons entering the Morris County Municipal Utility Authority (MCMUA) Transfer Stations in Parsippany-Troy Hills and Mount Olive Townships know, understand, and abide by the safety rules provided herein. This listing is not intended to be all-inclusive.
Hardhat, high visibility clothes/reflective safety vests, safety shoes, and eye protection are to be worn when outside the vehicle.
All vehicles must comply with the posted traffic signs, with special attention to the posted speed limit of 5 MPH and DO NOT ENTER signs.
Do not pass moving vehicles.
Report ALL injuries and/or accidents to the Traffic Coordinator or at the Scale House immediately.
Report ALL fuel/oil leaks or spills to the Traffic Coordinator or at the Scale House immediately.
Riding on the outside of the vehicle or standing on the vehicle's rear hopper step is forbidden when vehicle is moving/driving onsite.
Drivers are not to use cell phones or two-way radios while driving or operating machinery. This is prohibited on the MCMUA Transfer Stations' property, especially during a backing maneuver.
Listening devices i.e. ear buds, earphones, blue tooth devices are not to be worn while on site.
Smoking and/or Vaping is prohibited while outside your vehicle, especially on the tipping floor, loading bays, and on or around the tarp rack area.
Firearms and/or weapons of any type are not allowed on the MCMUA property for any reason.
The use of intoxicating beverages (alcohol) or any other restricted substances on MCMUA property is strictly prohibited. Any drugs or drug paraphernalia will be turned over to an appropriate law enforcement agency and may result in criminal prosecution.
All commercial solid waste vehicles entering the facilities shall be equipped with external audible back-up alarms. A minimum 85 dBa alarm must sound whenever the machine is in reverse.
Blind side backing is not to be attempted without guidance.
The backs of packer trucks and roll-off containers must be opened and closed ONLY while on the tipping floor.
"Jake Brakes" may not be used on site at any time.
Photography/videography is prohibited unless there is written permission from the MCMUA Facility Manager.
All visitors must sign in and check in at the Scale House and/or Transfer Station Main Office.
Upon entering the MCMUA Transfer Stations all collection vehicles/customers must yield to any transfer trailer traffic. Heavy equipment operators/yard trucks have the right-of-way throughout the facility.
Loads must be tarped prior to entering the facilities. All tarps are to be removed in designated tarp removal areas only, prior to entering the tipping floors. Under no circumstances are tarps to be removed before entering the facility.
Heavy Equipment Operators have the right-of-way on the tipping floor. All vehicles are to yield to operating machinery, Transfer Station trucks, and all pedestrians.
All vehicles must come to a full stop before proceeding onto the inbound and outbound truck scales.
Customers preparing to enter the tipping floor must STOP and wait at stop the sign in the queuing area for the Traffic Coordinator's direction.
Drivers preparing to enter tipping areas must await directions from the Traffic Coordinator and/or Heavy Equipment Operator. All drivers need to maintain eye contact with operating personnel.
Passengers and helpers must remain in the cab of the vehicle. Drivers must stay within six (6) feet of their vehicle when outside of their vehicle. When outside of vehicle, please keep clear of tipping area bay door(s) as loader(s)/operator(s) will be in motion.
Residential customers can have up to two (2) additional individuals helping unload their vehicle, all wearing appropriate PPE. No children and no pets are allowed on the tipping floor at any time.
A minimum distance of ten (10) feet must be maintained between all personnel, trucks, rolling stock, and heavy equipment within the facilities.
Conforming safety chains must be used to hold open roll-off container doors while unloading. Use of rubber bungee cords, wires, ropes, etc. will not be permitted.
While dumping the load, stay clear of the back of the vehicle. Never stand under an open tailgate or raised hopper.
Cleaning out from behind the blade of a vehicle (truck cleanouts) must be done in designated clean out areas separate from the work zone and approved by the Traffic Coordinator.
Tailgates, bodies, and hoists should be lowered before exiting the building to ensure compliance with NJDEP permits. Equipment should not be moved around with tailgates, doors, hoists, or bodies open or in the extended position. All open top trucks must be completely empty before exiting the tipping floor doors.
Violence, threating behaviors, horseplay, scavenging of the loads is strictly forbidden.
Any customer that needs to enter the tipping area on foot, must notify the Traffic Coordinator. Once all movement of equipment and vehicles are stopped, entry can be performed under direction of the Traffic Coordinator. Movement cannot resume until the person(s) on foot has communicated to the Traffic Coordinator and the customer has left the area.

Thank you for your cooperation.
Please review with your employees who have access to or use the MCMUA Transfer Stations in Parsippany-Troy Hills or Mount Olive Townships. Please sign this form below and return to the MCMUA confirming that they have received, have read, understand, and will abide by these Safety and Operational Rules:
_____________________________________________
SIGNATURE
_____________________________________________
PRINT NAME
_____________________________________________
COMPANY NAME and ACCOUNT #