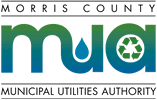 Transfer Station Schedule
(Closed Sundays)

Morris County
Municipal Utilties Authority
Transfer Station Schedule
(Closed Sundays)
2019 Environmental Excellence Awards


The 30th Morris County
Awards Program
October 11, 2019, 12 noon
Frelinghuysen Arboretum,
Morristown, NJ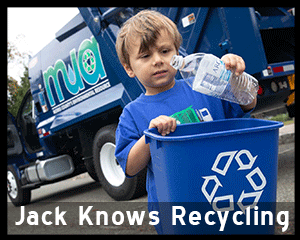 Welcome
Fashion Show and Commentary
Liz Sweedy, Morris County Senior Recycling Specialist

Presentation of Awards
- Bill Hudzik, MCMUA Board Chairman
- Frank Druetzler, MCMUA Board Member
- Gene Feyl, MCMUA Board Member
- Larry Gindoff, Executive Director
And the awards go to…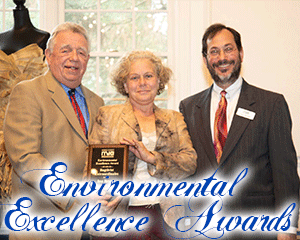 Ina Braun - Bagtivist Extraordinaire! Award! - This award is for a woman with a vision, Ina is a self-proclaimed Bagtavist! She gives old t-shirts new life as she recreates them into bags.
Her mission is to reduce the use of single-use plastic bags and bring mindfulness about the widespread problems that result in plastic pollution and litter!
Ina's role as the Bagtivist started with a commitment to make a difference by creating tangible awareness. She feels that local efforts \and outreach are important. In addition, she believes that every unused t-shirt deserves a second chance.
She brings her sewing machine to farmers markets to turn long forgotten t-shirts into sustainable reusable cloth bags that can be washed and used over, and over again! Ina provides service with a smile and does not charge for her clever creations! Ina's goal is to inspire others to reuse!
Ina's dream is that every farmer market in the US has someone making T-shirt bags! No more plastic bags, says Ina!
Her payment is knowing that she is reducing the use of plastic bags resulting in a cleaner environment!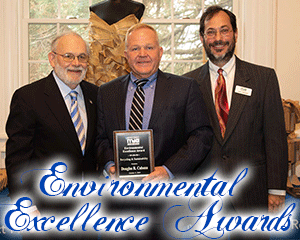 Doug Cabana, Morris County Freeholder - Recycling and Sustainability Award - As former mayor and committeeman from Boonton Township, and currently, the longest serving member of the Morris County Board of Chosen Freeholders, Doug Cabana has consistently advocated in the public interest on environmental issues and has been a reliable supporter of recycling and sustainability programs throughout Morris County.
Most recently, in support of the Tree Recovery Campaign, a collaborative program launched after Hurricane Sandy between the NJDEP Division of Parks and Forestry, the New Jersey Forest Service and the nonprofit Arbor Day Foundation, that provided 60,000 free tree seedlings to New Jersey residents, with 11 distribution sites in Morris County, Freeholder Cabana stated "This is an excellent program that can help enhance our neighborhoods and towns across the county, while also offering environmental benefits.
Freeholder Cabana has supported the Trail Construction Grant program of the Morris County Open Space Preservation Trust. This program's long term goal, connecting Morris County's open spaces and greenways, and enhancing recreational opportunities and overall quality of life, saw the opening in June 2018 of the first trail, the Stobaeus-Briarwood Trail in Florham Park. Freeholder Director Cabana stated, "Construction of new trails is a great way to encourage residents and visitors to explore and enjoy the beautiful landscape of Morris County. The trails make our plentiful open spaces accessible to everyone, connecting greenways, enhancing recreational opportunities and improving quality of life for all residents.
On other environmental issues, Freeholder Cabana has supported the Morris County Flood Mitigation Program, a program designed to relocate residents and businesses from areas prone to repeated flooding, and restore the land to its natural use. To date, sixty-seven (67) homes that suffered serious flooding after Hurricane Irene and other severe rainfall events, have been purchase, recognizing the severity of the environmental and economic impact caused by continual flooding. Freeholder Cabana cited the safety of the residents and businesses stating "This is part of our continuing effort to help get residents from across the county out of harm's way in places that have been overwhelmed by previous floods and are expected to be struck again by future flooding.
Additionally, as committeeman, Freeholder Cabana worked with the NJDEP in its efforts to clean up and protect ground water at a toxic site located in Boonton at the former Cessna Aircraft Company.
In closing, Doug Cabana has consistently supported recycling and sustainable environmental programs beneficial to Morris County residents throughout his 39 years of public service.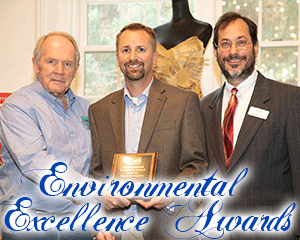 Eric Gabrielson, Republic Services - Man in the Trenches Award - This award is presented to Eric Gabrielson, the operations manager of ReCommunity/Republic Services.
When we think of the man in the trenches, the image of a WWI soldier in a muddy trench comes to mind! Most soldiers would spend an average of four days at a time in a front line trench, and their daily routine varied according to the tasks at hand.
There are some similarities in managing a MRF, materials recovery facility! Eric Gabrielson, spends 5 sometimes 6 days a week at ReCommunity/Republic Services, which is a Class A recycling facility that is utilized by the Morris County MUA. All of the recyclables collected by the MUA are taken to ReCommunity where those materials are sorted, baled and shipped to market.
As you can imagine, Eric encounters day to day challenges running the MRF. His daily responsibilities include managing staff, answering questions, and dealing with equipment breakdowns. Eric can answers technical questions, provide suggestions to improve efficiencies and determine how best to solve problems. The MRF runs approximately 24 to 25 tons of material per hour, about 200 tons per shift!
Eric is a true recycling Ambassador and his efforts are respected and appreciated! He Facilitated tours of ReCommunity/Republic this year for our Municipal Recycling Coordinators in order for them to meet NJDEP requirements. We thank Eric for his willingness to not only accommodate our municipal coordinators but to also educate them about the processes that take place at a materials recovery facility.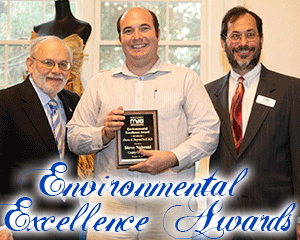 Steve Nebesni, County of Morris Employee - Above and beyond MORE - A little bit about the recycling program for Morris County employees is called M.O.R.E., which is the acronym for the Morris Office Recycling Excels. The in-house recycling program educates employees and provides them with the tools to properly manage their waste in the county buildings. Steve has worked for the County of Morris for 12 years. He is passionate about recycling right and has been in continuous communication with the MCMUA regarding proper recycling procedures. Steve goes out of his way to ask questions about recycling at the office, as well as recycling at home. He shares recycling information with colleagues and leads by example! Steve knows where the disposal area is at the county building where he works and is very familiar with the recycling dumpster.
Some employees would most likely not seek out the closest recycling dumpster and avoid the disposal areas altogether! Steve is not afraid of looking in dumpsters and he is not afraid of commenting if he sees something that needs to be corrected! In the past, he requested recycling containers and decals for employees in a county department when he noticed that containers were needed. Steve also inquired about the proper disposal of electronic waste from a county building. Steve is always looking for alternative options in order to prevent sending materials to the landfill. He is interested in how the recycling process works and is dedicated to going the extra mile to do what is best for the environment! Steve is a recycling Star and we are fortunate to have a county employee like Steve!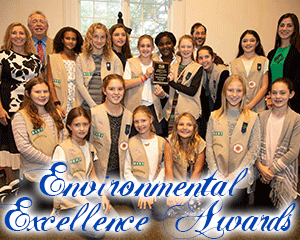 Girl Scout Junior Troop 96407, based at the John Hill School in Boonton - Waste Reduction and Sustainability Award - Under the direction of troop leader Andrea Villegas, Girl Scout Junior Troop 96407, from the John Hill School in the Town of Boonton, took on a waste reduction project that will help the environment, educate students and benefit their school.
The girls noticed that many students were bringing single-use plastic water bottles to school. The plastic bottles would be recycled after just one use! They also noticed that those students who were trying to refill reusable bottles had difficulty doing so at the water fountains which are not designed to fill bottles
The troop researched the benefits, costs, and funding options in order to plan a strategy. They surveyed fellow students to get a sense of how frustrated the kids were with trying to fill their water bottles at the water fountains. Students complained about the long lines and the time they spent in line.
They arranged a meeting with Mr. Tom Valle, their principal. The girls presented the information and recommended a bottle filling station (fountain) that would cut down on the time it takes to fill a bottle. All students would be encouraged to bring refillable bottles to school, reducing the use of plastic bottles significantly!
The John Hill School is purchasing a water filling station with the assistance of funding through a pilot program from the Morris County MUA! The pilot program was introduced recently to assist schools with the reduction of waste and to foster sustainability!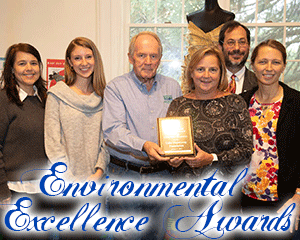 Lake Hopatcong Foundation - Clean Water Stewardship Award - On November 3, 2018, the Lake Hopatcong Foundation partnered with the Lake Hopatcong Commission to organize the lake-wide cleanup during the 60-inch drawdown. The NJDEP reduces the water level in the lake to allow for the removal of debris from the lakebed.
The Lake Hopatcong Foundation coordinated 400 volunteers who worked more than 1,200 hours to collect debris from more than 50 access points around the lake's 50 miles of shoreline. A tremendous amount of debris was collected, including 4,000 drink containers, 300 plastic bags, 979 plastic bottles, 293 cigarettes, 175 toys, 150 articles of clothing, 196 balloons, 14 shot gun shells, and 827 tires. The unbecoming assortment of items also featured patio furniture, bowling balls, vacuum cleaners, several refrigerators and washing machines and endless other objects!
The Lake Hopatcong Foundation was grateful to all of the volunteers and team leaders who came out in the rain to help improve the water quality of Lake Hopatcong. Our very own Cheryl Birmingham and Morgan Brown participated in the cleanup on that rainy, muddy day!
Additional support was provided through grant funding from the Morris and Sussex County Clean Communities programs. Debris collected during the clean-up was removed by the department of public works from Hopatcong, Jefferson, Mount Arlington, and Roxbury, tires were cleaned by the Hopatcong Fire Department and recycled through Bridgestone's Tires Forward Program and the Morris County Mosquito Control department
The MCMUA has partnered with the Lake Hopatcong Foundation on various projects and appreciates working with the Foundation to achieve common goals in improving water quality and preserving natural resources!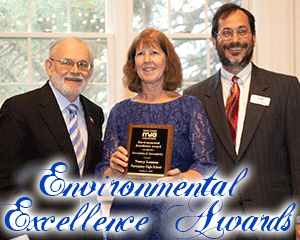 Nancy Lennon, Parsippany High School Science Teacher - Sustainability and Stewardship Award - Nancy is a Science teacher at Parsippany High School and has been the Environmental Club advisor at the high school for 17 years! Nancy has been involved in the Keep Morris County Litter Free project in conjunction with Morris County Clean Communities for 10 years! She teaches and inspires students to protect planet Earth and to be responsible citizens!
Through the grant money received from Keep Morris County Litter Free (also known as Slam Dunk the Junk), Nancy has purchased litter removal equipment that is used regularly. In addition, she completes all requirements including taking photos at the litter cleanups and submitting the photos with a narrative to local newspapers about the project in order to encourage others to cleanup litter!
The grant program is great, but it means that the teacher (or project leader) must complete and submit the application, coordinate with the school, the date and time of the cleanup. Must enlist students to participate, must pick up the banner and equipment from the MUA, conduct the cleanup, take photos, keep track of what was collected, complete and submit the summary form and return the banner and equipment! Time consuming? Yes! Rewarding? YES
Nancy is also responsible for facilitating the participation of students from Parsippany High School in attending the NJ Clean Communities Kids Day at Mennen Arena and the NJ Clean Communities Student cleanup project at Waterloo Village. Parsippany High School is fortunate to have such a dedicated teacher on their team!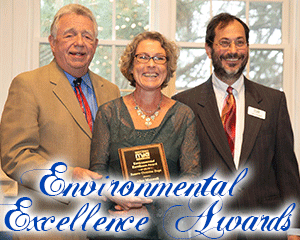 Alison Maxwell, Director of Kemmerer Library, Harding Township - Renew Overdue Bags Award - Alison Maxwell, director of the Kemmerer Library in Harding Township, introduced the Trex plastic bag collection program to students and instituted a youth community education recycling program which takes bags off the streets and places them in Benches. The "Bags to Benches" program is sponsored by the TREX Corporation. Trex collaborates with communities and schools by offering a program that diverts plastic bags from the landfill and reuses those plastic bags in creating plastic lumber.
Alison developed a community service project and education program for a group of students in Harding Township. The students created posters to inform library patrons about the life of a plastic bag and created a large sign for the collection bin, to track the plastic bag collection process. The group also gave a school assembly presentation to explain the purpose and benefits of the project. During the assembly program, students learned about the problems that are created when single-use plastic bags are littered
In addition, Alice coordinated a day of service at the library, by inviting 4th grade students to from Harding Public School to the library to learn about the problems caused by plastic bags that make their way into storm drains and our waterways. She also talked about the benefits of holding a plastic bag collection program. Educating the public was key! The fourth grade students made posters that were displayed at their school. This, in conjunction with the assembly presentation provided community awareness about preventing litter and protecting Planet Earth!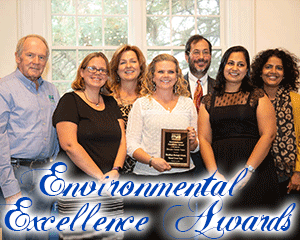 Mendham Borough Schools Green Team - Dream Green Team Award - Parents, Sally Havey, Amy Golier, Melissa Maurer, Neha Mathur, and Rachna Mathur are parents of students in the Hilltop Elementary School and Mountain View Middle School, in Mendham Borough.
The Mendham Borough School district (including both schools, with approximately 600 students) has come in second place, 3 years in a row, in the TREX, plastic bag collection challenge!
In 2019 they doubled their collection of plastic bags to 1,823 lbs. This year, they were awarded a TREX engraved bench and a Trex flower box!
A special thank you to Kristen Huang and Jonathon Dragon, the Teachers who work with the parent Green Team and are the School's Trex leaders! I would also like to thank Principle Aimee Toth and Principal David Heller for their support in the green activities and Trex plastic bag collection program!
"Litterless" Lunch is conducted at both schools monthly to increase awareness and promote recycling. Green Team parents stand at disposal area and direct students about how to properly dispose of waste and recycle right! A separate Trex container is also in place! The Green Team invite guest speakers during lunch and the students learn about recycling and are able to ask questions!
The Walk n'Roll is a program to promote walking to school every Friday for students at the Hilltop School. It begins on Earth Day and runs through the end of the school year! Students are excited to meet surprise guests at various locations on route to school. The surprise guests may be a staff member, such as the Principal, or a Teacher, the Mayor, a Policeman or Fireman! This makes the walk so much more interesting!
The Earth Day celebration is an all-day education event that offers several educational stations and an environmental assembly program. One activity is starting plants from seeds, which are provided by Sally's brother who has a farm in GA. The plants are started by placing the seeds in pieces of water soaked strips of paper that were saved from the schools recycling bins! Sometimes students recognize their homework or tests that have been soaked in water! The students learn how to secure their seeds properly in the recycled paper and include a simple instruction strip for parents so they are planted correctly. Students often share their planting success stories and sometimes bring home grown bouquets of flowers and beans to school!
This year, their Earth Day project focused on reducing single-use plastic bags! Reusable Canvas bags were donated from Mendham Borough Department of Public Works. Students decorated the canvas bags and then brought them home for their parents to use when shopping. It was a big hit! The kids loved decorating their bags and were so proud to start using them! Sally says," That is what it is all about, right?" "Yes Sally, the connection of community, school, home and getting people excited about sustainability is absolutely what it's all about!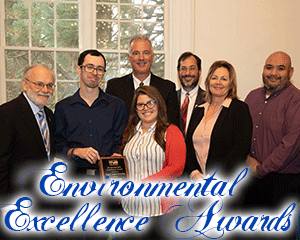 Wegmans of Hanover - "Super" Market Recycling Award - Wegmans of Hanover opened in October 2017. The Hanover Wegmans embraces the national supermarket chain's commitment to sustainability which supports the environment. In addition to recycling all mandated materials generated by employees and operations, the Hanover Wegmans Green team provides receptacles for visitors to their café and supermarket for proper source separation of recyclable from trash in common areas.
They encourage the public to reduce, reuse and recycle even more by offering patrons convenient plastic bags and film recycling receptacles where customer can deposit plastic bags, plastic outer wrap & film, cereal box liners and clean bread bags. Wegmans uses the collected plastic bags and film to make new plastic bags which are comprised of 40 % post-consumer recycled plastic, closing the loop!
Wegmans became the first grocer to join the How2Recycle Label program formed by the sustainable Packaging coalition. The goals of this initiative, include creating an ultimate system where all packaging materials are beneficially recovered, creating clear and nationally unified labels enabling industries to convey to consumers how to recycle specific packaging, improving reliability and transparency of recycling claims, providing a labeling system that allows Federal Trace Commission Green Guidelines, an increasing the availability and quality of recycled materials.
Wegmans encourages sustainable choices with the use of reusable shopping bags. Wegmans also donations food to area food banks and uses of high efficiency LED lighting and natural refrigerant technology to reduce energy usage.
We congratulate the store managers and employees for their commitment to be in line with the corporate culture of Wegmans!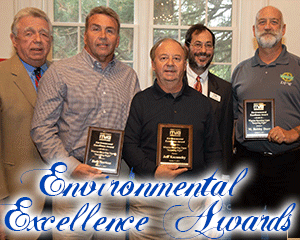 Wharton Borough Recycling Depot Attendants - Municipal Recycling depots provide the convenience to residents of dropping off recyclables instead of waiting for curbside collection! Our next award is being presented to the Wharton Borough Recycling Depot attendants, under the direction of the Scott Hutchins, Municipal Recycling Coordinator, the attendants at the Wharton depot go above and beyond as they not only remove unacceptable items from recycling stream, but also educate residents. The attendants provide vital information about keeping plastic bags, plastic film, Styrofoam and other contaminants out of the roll-off containers at the recycling depot. They also hand out flyers and printed information to residents about properly handling their waste! The crew is well-known for creating impressive original signage for the depot that catches the eye of all who visit! The signs are typically made of cardboard and sometimes have the actual unacceptable items affixed to the signs! These visual reminders draw the interest of the residents who are always surprised to find new information posted on or around the roll-off containers! My favorite sign had the words No Styrofoam hand printed in a diagonal fashion! It was very innovative and memorable!
The MCMUA applauds the fine work that is being done and appreciate the communication that takes place. The depot attendants go out of their way to call us with questions, and provide updates to residents. Communication in extremely important! Unfortunately, Bobby Dorr, one of the three attendants passed away a few months ago. Accepting the award were Bob Norton, Jeff Kazansky and on behalf of the late Bobby Dorr, Scott Hutchins.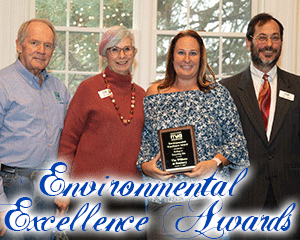 The Willows at Roxbury Complex - ReBag to Recycling Bin Award - Recycling practices at Multi-family complexes are difficult at best. Most complexes offer centralized disposal areas for residents to dispose of their trash and recyclables. Last year, while conducting inspections, Kellie Ann Keyes, Roxbury Township Municipal Recycling Coordinator, noticed that an apartment complex, The Willows at Roxbury, did not have any dumpsters or container for recyclables in their complex. Residents were putting trash and separated recyclables into the trash dumpsters. Kellie Ann approached Mr. Ofer Bachar, property manager of the Willows, about recycling requirements. The source separation law requires that mandated recyclables must be kept separate at the point on generation in order to be in compliance! Mr. Bachar immediately had recycling dumpsters put in place next to the trash dumpsters. With the assistance of Kellie Ann, recycling requirements and information was provided to the residents. In addition, a ReBag was provided to each unit in order to reduce the use of plastic bags, which are not acceptable in the recycling stream! Residents were pleased by the recycling program and immediately began to follow recycling guidelines. The Rebag is also an educational tool, showing the acceptable and unacceptable materials on the bag. Kellie Ann makes frequent visits to the complexes in Roxbury Township to check on recycling dumpsters and continues to work closely with property managers! The award was accepted by Mr. Ofar Bachar, Property Manager.
Recognition of the Winners of the 2019 Slam Dunk the Junk! Poster Contest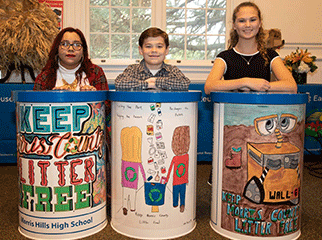 Through the Morris County Clean Communities Program the MCMUA offers a poster contest through our Keep Morris County Litter Free Grant. The winners of the 2019 poster contest are as follows:
Luke Gargione, Black River Middle School
Laura Lozano, Morris Hills High School
Juliet Trouse, Riverdale Public School

The works of art generated by these three students have been replicated on recycling cans, which will be donated to each respective school.