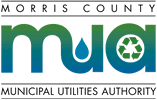 Transfer Station Schedule
(Closed Sundays)

Morris County
Municipal Utilties Authority
Transfer Station Schedule
(Closed Sundays)

2010 Recycling Tonnage Reports
Provided below are 2010 recycling tonnage reports provided by individual recycling markets as well as the MCMUA. These reports are useful for municipal recycling coordinators while completing their annual recycling tonnage reporting forms.
If you have question on this material please contact Liz Sweedy at (973) 285-8393 or by email at lsweedy@mcmua.com. In addition, feel free to call any of the businesses directly. The telephone numbers for the businesses are listed on their cover letters.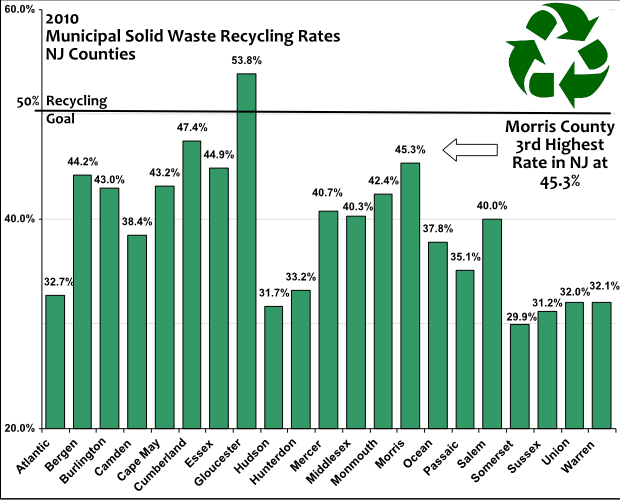 Morris County Municipal Utilities Authority ("MCMUA") Recycling Facilities and Operations
MCMUA 2010 Recycling Report for the Recycling Consolidation Center located in Dover


The first report shows tonnage delivered to the MCMUA's Recycling Consolidation Center in Dover. It provides a detail listing of all loads delivered by material and by municipality (There is a second version of this report that further breaks down the activities by recycling generator in each town). Just print out the pages that are applicable to your municipality. Additionally, these report are mailed to Morris County municipal recycling coordinators toward the end of February.

Listed below are the abbreviations and the entire name or description of each material used in these reports.
ALU - Aluminum Containers
BAT - Household Batteries
BAL - Ballasts
BSW - Boat Shrink Wrap
BUL - Fluorescent Bulbs
CHI - Chipboard
CMG* - Commingled Containers
COM - Computer Paper
COR - Corrugated Cardboard
GLA - Glass
JMM - Junk Mail & Magazines
MIX* - Mixed Paper
NWP - Newspaper
OFP - Office Paper
PLA - Plastic Containers
SCR - Scrap Metal
TEL - Telephone Books

* Please note that aluminum, plastic bottles, glass, and tin/steel appear as CMG (commingled). Also, MIX consists of various types of paper. The percentages for these categories are listed below.
MIX (Mixed Paper) includes
Material (NJDEP Code)
Percent
Cardboard (01)
35.97%
Newspaper (03)
62.70%
Other paper (04)
0.18%
Residue
1.15%
CMG (Commingled) includes:
Material (NJDEP Code)
Percent
Glass (05)
57.35%
Aluminum (06)
3.60%
Steel (07)
7.61%
Plastic (08)
20.80%
Residue

10.63%

Non-MCMUA Recycling Facilities Reporting Recycling Tonnage
Notes:It is suggested that you look through each report in its entirety to make sure that you have all of the tonnage generated in your municipality. Be sure to check under all possible names and be aware that some reports from some markets may be sorted by common location names (i.e. Flanders, Whippany, Stirling, etc.) and/or zip codes and not the official names of the municipality (i.e. Mount Olive, Hanover, Long Hill).