F.A.Q. Home Medical Waste
The MCMUA operates one of NJ's most comprehensive household hazardous waste (HHW) programs. This F.A.Q. page and information on hazardous materials is intended as a guide about HHW materials as well as the MCMUA's HHW program. This information is a general guide and does not constitute official rule, regulation or law.
---
Hazards
May infect other people who come in contact with trash.
Unwanted or expired medicines or pharmaceuticals could be harmful to children or adults. Unused pharmaceuticals found in the trash may be stolen for unregulated use.
Antibiotics poured down the drain can kill beneficial microbes and bacteria in septic systems.

Handling
Keep sharp objects such as needles, syringes, and lancelets in secure containers out of the reach of children. Do not use glass.
Click here for Morris County specific issues related to medical waste.

Management Options
Once a prescription has been issued, the pharmacy cannot take it back. Periodic prescription medicine disposal programs are run by the:


USDEA typically holds National Prescription Drug Take-Back Days in April. Go to their website to see announcements of new programs and to view a listing of Morris County drop-off locations. Locations are usually publicized and available about one month prior to the collection day. The National Prescription Drug Take-Back Day aims to provide a safe, convenient, and responsible means of disposing of prescription drugs, while also educating the general public about the potential for abuse of medications.

---

Morris County, NJ Collection Sites
Take Back Day: Saturday, April 30, 2016 10:00 am - 2:00 pm

PARTICIPANTS NAME
COLLECTION SITE
ADDRESS
CITY
STATE, ZIP
FLORHAM PARK POLICE DEPARTMENT
FLORHAM PARK POLICE DEPARTMENT
973-377-2200
111 RIDGEDALE AVE.
FLORHAM PARK
NJ, 07932
Map
HARDING TOWNSHIP PD
PD HQ
21 BLUE MILL RD
NEW VERNON
NJ, 07976
Map
PARSIPPANY PD
MORRIS HILLS SHOPPING CENTER
3101 ROUTE 46
PARSIPPANY
NJ, 07054
Map
LONG HILL TWP. POLICE DEPARTMENT
LONG HILL TWP. POLICE DEPARTMENT
908-647-1800
264 MERCER ST.
STIRLING
NJ, 07980
Map
CHATHAM BOROUGH POLICE DEPARTMENT
CVS PHARMACY
471 MAIN STREET
CHATHAM
NJ, 07928
Map
MORRIS PLAINS PD
STOP & SHOP SUPERMARKET
245 LITTLE RD,
MORRIS PLAINS
NJ, 07950
Map
MORRIS COUNTY PERSECUTOR'S OFFICE
MOUNT LAKE - FIRE DEPARTMENT
400 BOULEVARD
MORRISTOWN
NJ, 07963
Map
MORRIS COUNTY PERSECUTOR'S OFFICE
MORRISTOWN HIGH SCHOOL
50 EARLY STREET
MORRISTOWN
NJ, 07963
Map
RANDOLPH POLICE DEPARTMENT
ACME SUPERMARKET
690 MILLBROOK AVE
MORRISTOWN
NJ, 07963
Map
ROXBURY TWP. POLICE DEPARTMENT
ROXBURY RECREATION CENTER
973-448-2100
72 EYLAND AVE.
SUCCASUNNA
NJ, 07876
Map
PICATINNY ARSENAL POLICE DEPARTMENT
PICATINNY ARSENAL POLICE DEPARTMENT
973-724-3817
173 BUFFINGTON RD.
PICATINNY ARSENAL
NJ, 07806
Map

Project Medicine Drop (click here) is coordinated through the NJ Div of Consumer Affairs and provides the opportunity to discard unused prescription medications every day throughout the year. The participating police agencies maintain custody of the deposited drugs, and dispose of them according to their normal procedures for the custody and destruction of controlled dangerous substances. They report the quantity of discarded drugs to the Division of Consumer Affairs on a quarterly basis. The Division expanded the program in 2012, to include police departments in each of New Jersey's 21 counties. Click on the links above to find locations of disposal programs.


Morris County Location:
State Police Barracks – Netcong
85 Route 206 South
Netcong, NJ 07857
(973) 347-1001
Nearby Morris County Location:
North Caldwell Police Department
136 Gould Avenue
North Caldwell, NJ 07006
(973) 226-0800
the American Medicine Chest Challenge (click here)
DisposeMyMeds.org (click here) is an online resource sponsored by the National Community Pharmacists Association (NCPA®). Its members and partners provide safe disposal of unwanted consumer medications in local community pharmacies around the country. Click here to find a participating community pharmacy near you. Note: some limitations may apply, including the return of controlled substances.Check with your local pharmacist.
If you cannot dispose of unwanted medicine using disposal programs described above, you may place medicines and/or drugs in the trash. Note, this is not the preferred method. If disposing of medicines in the trash, destroy (crush/pulverize) the medicine rendering it undesirable, tightly wrap and place in the trash. Click here to read a document prepared by the NJDEP describing this technique of disposing old medicines in the trash. Do not flush medicines down the toilet or pour into the sink.
Take part in a Safe Syringe Disposal Program offered by your area hospital.
Place disposable sheets, medical gloves and soiled bandages in plastic bags and securely fasten before you put them in the trash.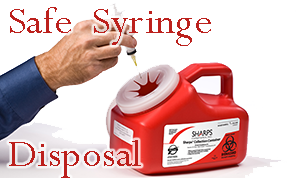 Safe Syringe Disposal Programs in Morris County
St. Clare's Hospital
(Dover and Denville Campuses)
Just drop off syringes at the front desk, but they must be in a sealed, hardened container.
Morristown Medical Center
973-971-4177 - Containers for syringes can be picked up or dropped off at the outpatient desk located on the right after going into the main entrance. Hours are M-F, 7:00am-7:00pm and Saturdays 7:00am-3:00pm. Syringes must be empty and syringe containers cannot be more than 3/4s full.
Chilton Memorial Hospital / Access Center (Pompton Plains)
People may pickup empty syringe containers and drop off full ones at the Access Center. All syringes must be in containers. Hours: M-F, 6:00am - 8:00pm and Saturdays 7:00am-3:00pm.

Note: in addition accepting sharps and/or syringes for disposal,these safe syringe disposal programs will also accept epipens for disposal as longs as they are empty and packaged in hardened containers like sharps and syringes.

Additional information about the Safe Syringe Disposal Program maybe obtained by contacting:
Waste Management, a waste hauling company has a "Sharps Disposal by Mail" program. Participants are provided with an approved disposal container and mail full containers for disposal using US Postal Service. Interested parties can call Waste Management for prices & details at 877-WASTE-MD.